Saturday, August 16th, 2014
Teen bowls with the pros
Former Augalize County resident competing at Lefeld Classic
By Gary R. Rasberry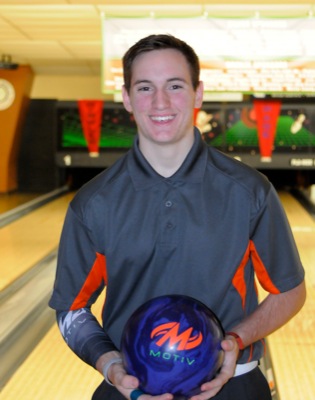 COLDWATER - As the professional bowlers got to their assigned lanes for a practice round on Friday, Austin Cramer went over and had some of the bowlers sign their autographs.
Then he started his own practice round.
The 15-year-old, born in St. Marys and raised in Wapakoneta before moving to Gainesville, Fla., six years ago, is taking part in this weekend's Lefeld Implement Classic PBA Central Region bowling tournament at Pla-Mor Lanes in Coldwater.
While it's his first PBA professional tournament, Cramer is no stranger to top-level bowling, having finished second in the 14 & under boys division at the 2013 Teen Masters Tournament in Fort Lauderdale.
"He eats, sleeps and breathes bowling," said his dad, Brent. "He studies so much of the sport and idolizes the top bowlers. He just wants to be one of them."
Austin has also competed in Pro-Am events with top PBA pros but getting a chance to compete with them on a tournament level creates a different feeling. Austin was surprised by the number of top-level pros competing at the regional event.
"You go down South or further north, you get two to three big names. Here there's nine to 10," Austin said. "That surprises me. Some I know, some I don't. It's going to be kind of cool to actually bowl with them and compete rather than just do a Pro-Am."
When Austin saw information about the Lefeld Classic, he wanted to come back to the area to compete.
"Once I found the tournament, I told my dad about it," Austin said. "I called a couple of family members and two weeks later, I had the money (for the entry fee) to do the regional."
Brent Cramer was a bit concerned.
"I was thinking 'at his age, is he ready to compete at that level?'," Brent Cramer said. "It's so much a mental game. You have to be able to throw one shot at a time and let the bad shots go. ... For him to come back and do this in front of his family and friends in Ohio, it's going to be a great pleasure."
Austin competed in Friday night's Pro-Am events with several of his family members from the area in attendance.
"It's pretty cool that the family still around here wants to support me no matter what," Austin said. "I take pride in that."
Austin will start his qualifying tonight around 7 p.m. at Pla-Mor, which could be interfere with another family event.
"It's my little cousin's first birthday, and it's from 5-7 p.m.," Austin said. "I don't know how well that will go, if they celebrate for an hour or so and come over, or stay (at the party) and wish me the best of luck."
When asked for his goal this weekend, Austin said hopes to make it past Saturday night.
"I want to make the top 32," he said. "If I do, I'll put my expectations a bit higher and try to make the round of eight and see how far I go from there."

Schedule:
Saturday
Qualifying, 8 a.m., 1:30 p.m., 7 p.m.

Sunday
Round robin, 10 a.m.,
Championship round, approximately 3 p.m.