Monday, August 18th, 2014
Tackett holds on for title
By Gary R. Rasberry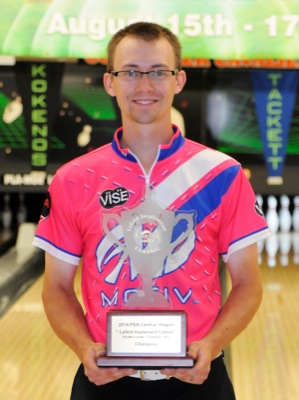 COLDWATER - After finishing fourth at last year's Lefeld Implement Classic, E.J. Tackett was ready to return.
Tackett dominated Sunday's round-robin rounds to head to the stepladder finals as the top seed and then captured his first Lefeld Classic title with a 221-193 win over Rhino Page in the final game at Pla-Mor Lanes in Coldwater.
"This is my second year out here," Tackett said after collecting the $4,000 first place check along with a gas grill. "This is, by far, my favorite tournament of the year to bowl. The fans here are amazing. The Hartings family (owners of Pla-Mor) is amazing in what they do for us."
After finishing round-robin play with a total of 3,696 pins, Tackett had a break while the other three finalists went through the stepladder format.
Brandon Novak, who won a roll-off against Dakota Daniels for the fourth spot, started off strong, beating 2009 Lefeld Classic champion Chris Loschetter 233-223. In the second match, Novak and Page dueled, with Page win to advance to the final.
Page and Tackett rolled spares in the first frame and strikes in the second frame, but Page rolled a split 8 in the third and only managed to take down a pin for an open frame. Tackett took advantage by rolling four straight strikes.
In the sixth, Tackett missed the 10-pin on his second roll to leave an open frame. Page, who had strikes in the fourth and fifth frames, rolled consecutive spares in the sixth and seventh.
"It was going good until I missed that 10-pin in the middle of the game," Tackett said. "I never worried about striking. I thought I was throwing pretty good."
Tackett, who had rolled a strike in the seventh frame, had another open frame in the ninth after hitting just six pins on the first ball and getting only two more on the second. Page followed up with a strike in his eighth frame, but needed a strike in the ninth to take control of the match. He missed a pin to leave his second open frame.
That was all Tackett needed as he rolled a strike in the ninth and followed up with two strikes on his first two shots in the 10th frame to clinch. Tackett wrapped up his game by knocking down eight for the 221. Page rolled three strikes in the 10th for the 193.
"I was worried. Rhino could have struck out (bowled all strikes at the end of the match) and I wouldn't have had a chance," said Tackett. "Fortunately for me, but unfortunately for him, he slipped and missed a spare and I was able to take advantage of that."
Page, a two-time winner on the PBA National Tour, left Coldwater with $2,200 for second place. Novak collected $1,750 for third with Loschetter earning $1,200 for fourth.
New Knoxville's Anthony Kennard was the only local player to make the 32-bowler round-robin round on Sunday, finishing 25th overall for a $450 payout. Coldwater graduate Tyler James was 48th with fellow alum Crystal Boyer 76. Fifteen-year old Austin Cramer was 73rd.