Thursday, August 21st, 2014
Minster man still has need for speed at 75
Governor's Cup Regatta set to return to Grand Lake
By Kathy Thompson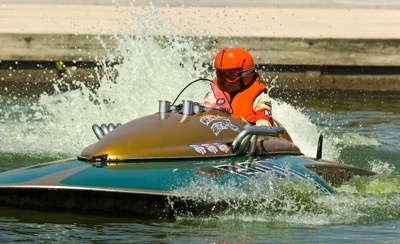 The first time Ron Snyder raced a boat, the need for speed became forever in his blood.
Snyder, 75, of Minster, may be one of the oldest racers at this weekend's Governor's Cup Regatta on Grand Lake. He's been racing since 1962 and has no plans to retire.
When he was offered the chance to drive a racing boat that he had helped build, he was a little apprehensive.
"I didn't know anything about racing," Snyder explained. "But I took that first ride and the next thing I know, I'm in Chicago buying one for myself."
This year, Snyder won't be racing his own boat, the Heavy Duty, which is out of commission awaiting a new engine. He will race a vintage boat the Helter Skelter, which was built by Jim Cunningham in 1968, but has since been rebuilt and restored, Snyder said.
Snyder helped with the restoration.
"It's a very good boat," Snyder said. "One of the best. It was originally built to run on rough water, not lakes like this one."
According to Scott Anderson, a co-chair for the event, 50 to 60 racers will attend and 30,000 spectators are expected.
"It's the best free family fun there is," Anderson said. "It draws a lot of attention to the lake and what we have to offer here."
Snyder will not be sitting on the sidelines as a spectator during the weekend.
"I'm the world's worst spectator," Snyder said, laughing. "I just tell everyone to come to the races with their sunglasses and an umbrella. That way they're prepared for anything."
Snyder gets a twinkle in his eye and loves to talk about racing the high-powered boats that scream at more than 200 mph on the open water.
"I've never been scared in one," Snyder grins. "The only time I got scared was when a guy flipped his truck on the highway, landed upside down and came straight at my wife and I. He hit us head on. I was scared then."
Snyder described what it feels like to zoom at high speed on the water.
"The water turns black," he said. "You just go with the boat. She'll tell you how she's doing, and if you listen to her, she'll tell you what to do. The boat talks to you."
The hardest part of teaching someone to drive is preparing for the vibrations, Snyder said.
"The boat will take care of you," Snyder smiles. "If you use your head, she will take care of you. Just think of it as sitting in a big rocking chair and let your body float with the boat."
Snyder believes he is one of the oldest drivers on the water.
"Everyone I know my age has either died or hung it up," Snyder laughed. "But I just can't. I'll keep going until there's no going to get."
One of Snyder's greatest achievements, he said, other then bringing up four daughters, was when he was awarded a Life Achievement Award at the Madison Regatta in Indiana in 2005.
"That was a true honor," Snyder said.
His greatest ride was when he drove the "brand new" Miss Madison from 1976 to 1988.
"Everything was good with that boat," Snyder remembers. "She was right out of the box brand new. What was supposed to work, it worked."
When Snyder isn't racing, he's doing woodwork and building tables and stands for this daughters.
"I'm a busy person," Snyder said. "I'm the type of guy my dad Noble told me to be. If you kick the person in the butt that causes you the most problems, you probably wouldn't be able to sit down."
The regatta will have a pancake breakfast both Saturday and Sunday from 7:30-11:30 a.m. and opening ceremonies begin at noon.
Racing starts at 10 a.m. and runs to 6 p.m. and on Sunday morning, there is a Rooster Tail 5K.
Also on Saturday night following the last race, Erastus and Country Mile will play.
Cash prizes and a Governor's Cup Award will also be given out.
The event is sponsored by Kozy Kampground and Marina in memory of Bill Goodwin.
For more information, call Anderson at 419-953-3396 or co-chairman Myron Buxton at 419-733-3043.