Friday, August 22nd, 2014
Bulldogs rally to win over Rockets
By Lyle Kittle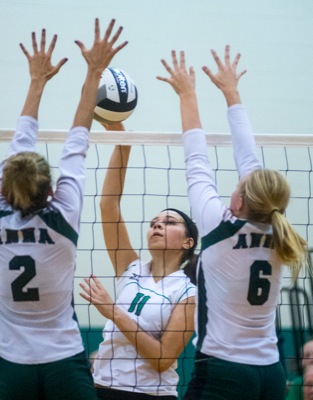 CELINA - Celina volleyball opened its season with a come-from-behind win at the Intermediate School over the Anna Rockets 25-22, 26-24, 21-25, 16-25, 15-9.
The Bulldogs staved off defeat in each of the games they won, getting short, late-game rallies behind the serving of Alli Darras and Paige Sutter to come back and take each contest.
The Bulldogs were unable to gather enough momentum to put together any stretch of points and losing Alyssa Hoyng to an ankle injury early on made it even more difficult.
"It was a tough break when we lost Alyssa," said Celina coach Amy Sutter. "We really had to readjust our lineup and that gave us a lot to overcome. I did find out I have a really deep bench."
Celina trailed 22-21 in the first game, and with Darras behind the line, forced a series of Rockets' mistakes and then used the net play of Hoyng to rally for the 25-21 win.
The second game was even more of a nail biter. The Rockets held game point at 24-21 before Madison Mertz stuffed a shot at the net. An Anna mistake followed by Sutter's service ace tied the game at 24-24. Mertz again drove home a point and another Anna error gave Celina the win.
"Anna has great defense," Sutter said. "At one point, we did so much right. And then we were a bit lost at other times."
Anna broke game three open with a 9-1 mid-game run, but Celina hung tough, stubbornly refusing to surrender. A tip by Rockets' senior Sarah Steinbrunner put the game in the books with Celina losing 21-25.
Anna maintained control in game four, taking an 11-6 lead before embarking on a 10-point run to effectively tie the match at two games each.
In the deciding game, it was Sutter again at service and Trish Dennis who spearheaded an attack at the net as Celina battled back from 6-5 to post a 15-9 win and take the match.
"Trish has a nice short term memory," Sutter said. "If there's a mistake or a bad play, she puts it out of her mind and goes on. She did a really nice job at the net. Overall, I think our blocking was really solid."
Sutter gave a brief talk to her charges before game five.
"I reminded them they controlled their own destiny," Sutter said. "It's a young club, but the girls are very focused and they didn't let the third and fourth games bother them tonight."
Celina returns to action on Saturday morning at the high school for the Mercer Health Invitational. The Bulldogs open the tourney against the Fort Recovery Indians, while Versailles and Greenville square off atthe middle school. The tournament is a round robin with each team facing each of the other squads during the day.