Saturday, August 23rd, 2014
Residents query U.S. rep on IRS, Common Core, other concerns
By Kathy Thompson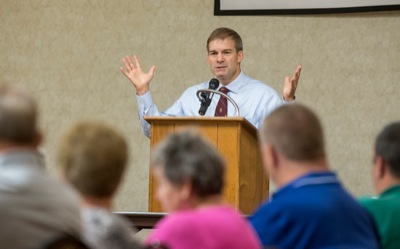 MARIA STEIN - A breakfast session Friday with U.S. Rep. Jim Jordan - touted as a forum on the impact of federal regulations - turned into a chat on government woes and politics.
The event in Maria Stein with keynote speaker Jordan was promoted as a discussion on new federal regulations impacting farmers, businesses, individuals and families. However, the approximately 70 people in attendance at the local American Legion hall seemed to have different concerns on their minds.
The IRS scandal, Common Core and the direction the country is going were questions thrown at the 4th District representative during the event sponsored by the Marion Community Development Organization and Osgood State Bank.
Jordan, R-Urbana, said he wished the entire country was more like "West Central Ohio."
"I think we would be just fine if those in Washington had the same ideas and basic values as the residents here do," he said.
He added that everyone present needs to be concerned about how the federal government continues to interfere in their daily lives.
"There are three values that are being attacked by various leaders in Washington and throughout the country," Jordan said. "Faith, family and freedom."
Jordan said those liberties are under fire by new laws such as Obamacare and new educational standards via Common Core.
"There is no reason to have 15 people on a board, making your medical decisions," Jordan said of Obamacare. "Those decisions should be between you and your doctor."
Jordan called Common Core "goofy" and said Ohio should follow other states, including Indiana, and repeal the law.
Last week, Ohio house representatives on the Rules Committee began hearing testimony regarding House Bill 597, which could repeal Common Core.
"Big government should have nothing to do with the way your schools are run," Jordan said. "We don't need the Department of Education coming into Marion Local Schools and telling them what your children should or should not learn. You have your own school boards for that. All Washington is doing is making it more difficult for your teachers to do their jobs."
Jordan said he hopes that residents in November will take back their "most basic rights" by voting for those who "value those rights."
Brian Heitkamp, 23, of Maria Stein, at the conclusion of the session said he thought Jordan knew what he was talking about and it "feels good to know he's thinking about the issues."
Heitkamp said he is worried about health care and Common Core and believes Jordan shares his concerns.
Larry Coppess, 75, of Minster, said he wants a smaller government, one that is "honest and truthful."
"The system is broke right now," he said. "Jim has done his research and he wants to make the country well again, I believe."