Tuesday, August 26th, 2014
Panthers overcome sluggish start for win
By Lyle Kittle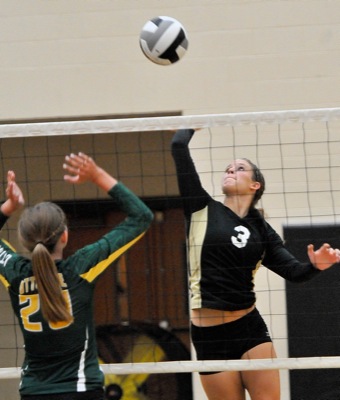 ROCKFORD - Parkway survived a brief second game meltdown to rally and post a 3-1 win over visiting Ottoville. The Panthers won the opener 25-23, and the Big Green took game two, 25-15. Parkway rallied to win games three and four 25-14, 25-14.
"The first game was a typical Monday night game where you come in and don't do everything right at first," Panther coach Jeff Marbaugh said. "Serving is our strength and I thought we did that well, especially in games three and four."
The Panthers opened up a quick lead in the first game 8-3 over the young and relatively inexperienced Ottoville squad. The Big Green started a senior, a junior, two sophomores and two freshmen.
Coach Andi Wertenberger's club showed the characteristics of being a tightly knit, cohesive group at times, while showing signs of youth at other times.
"We're a young team," Wertenberger said. "At times we show that. They have also played together a lot so that should work well for us as we go. One of the freshmen played the middle and another was our libero."
Ottoville battled back in the first game, forcing a 23-23 deadlock before Kayla Stephenson scored and an Ottoville error produced the winners.
In game two, Ottoville led 14-12 when a pair of kills by Ottoville's senior Annie Lindeman and a service ace by Nicole Kramer kicked off an 11-3 run that featured a handful of unforced Parkway errors.
"I didn't think we handled some of the easier balls - the free balls - quite as well as we should have," Marbaugh said. "We didn't use them to get any real attacks going and that slowed us down. Our serve-receive really went to pot in that second game."
In game three, Parkway pulled away with a 9-5 run that involved a strong frontline presence of Stephenson, Haley Hawk and Madison Roehm to post a 25-14 win.
In game four, back-to-back service aces by Whitney Rollins helped break open a close 11-10 game and lift the Panthers to the match win. Rollins added a kill and a pair of scoring blocks to fuel the 14-4 run. The pressure of the Panthers' front line assault produced several unforced Big Green errors, including four of the final five points.
"We cleaned up our serve-receive in the third game and that carried over into the final game for us," Marbaugh said. "We have some things to clean up and work on. Our overall defense was good tonight and we hit and blocked well."
Parkway's junior varsity won their battle with Ottoville 19-25, 25-13, 25-15.
Parkway travels to Coldwater to open the Midwest Athletic Conference slate on Thursday.