Tuesday, September 2nd, 2014
Roughriders go 3-0 for title
St. Marys defeats Fort Recovery in championship match
By Robb Hemmelgarn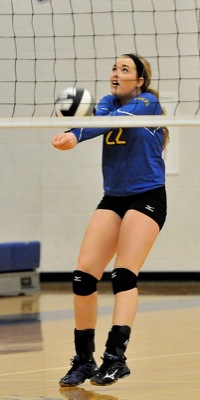 ST. MARYS - Before the 2014 volleyball season ever tipped off, St. Marys head coach Monica VanderHorst realized that in order for her team to enjoy the success for which she felt they had the potential, they needed to get off to a fast start.
Entering Saturday's invitational on their home court, the Roughriders sat at 2-3 overall on the season and were looking for some more fuel to propel them into the month of September.
When the dust cleared, VanderHorst's girls got exactly what they needed as they captured the St. Marys Invitational title with two-set victories over Allen East, Old Fort and Fort Recovery, to improve to 5-3 on the current campaign.
"We played very well overall today and I am extremely pleased with where we are right now compared to a year ago at this time," VanderHorst said. "All of the girls on the floor contributed in one way or another and played great games and that is what I am the happiest with. It was a complete team effort all day long."
The Roughriders opened pool play with a dominating two-game win over Allen East in which sisters Ally and Erika Angstmann combined for 12 kills to keep the Mustangs on the defensive for much of the 25-14, 25-7 triumph. The Roughriders faced a little more of a challenge in round two against Old Fort, but they still advanced to the championship round with a 25-19, 25-20 victory. Erika Angstmann continued her dominating play at the net with 17 kills, while Natalie Kuenning added 23 assists to help her team advance to the final battle of the afternoon.
"In pool play, we had the opportunity to go against a few teams that we don't see on a regular basis and the girls responded well," VanderHorst said. "We managed to find our opponents' weak spots early on and did a wonderful job of exploiting those. That is something that we need to continue doing well along with the things that we do best on the defensive side of the net."
While St. Marys was doing their damage in pool play, the Fort Recovery Indians were doing likewise throughout the morning. Head coach Chelsea Rogers' crew opened things up with a 25-18, 25-13 victory over Pandora-Gilboa in which Kendra Siefring displayed outstanding play at the net with six kills and four blocks to help pave the way to victory. In the second contest, the Indians had little trouble with Spencerville as they blasted them in two games as well by a final of 25-10 and 25-13. Siefring was a constant force for the Indians with nine kills and two blocks. She also finished 12-for-12 from behind the server's line.
"We have really focused lately on blocking and our hitting coverage, as well as communicating better," Rogers said. "I thought we improved in those areas today and we look forward to continuing that."
The Roughriders and Indians provided fans with a local flavor in the championship match. St. Marys started with a dominating 25-16 victory in the opening game. Erika Angstmann continued to pound out kill after kill against the Fort Recovery defense and finished the afternoon with 16 in the title match. The decisive second game was a little closer in the end as Fort Recovery rallied late to tie the game at 23 points before St. Marys drilled the final two points of the match and emerged with the 25-23 victory.
"We were concerned going into the game against Fort Recovery to be honest with you," VanderHorst said. "We scrimmaged against them several times this summer and knew they were a scrappy team who played well together. We managed to get a decent lead on them in the second game, but then we made a few mistakes and they made some pretty big blocks to get back into it. I was happy with how the girls answered though – they all did their jobs and kept their composure and we managed to get out with the victory."
Despite a combined 20 kills from Siefring, Tori Lennartz, Cassidy Rammel, Devin Post, and Morgan Lennartz, the Indians couldn't overcome the Roughriders' impressive play on both sides of the net.
"I thought that it would be a close game, but they have a couple hitters who just dominated us," Rogers said. "They also served aggressively and that took us out of our offensive game, which is definitely our strong point. Defense and serve receive are areas we spend 99 percent of our time on in practice. We just aren't quite there yet, but we are improving."
The Roughriders are back in action tonight when they travel to New Bremen to face their Auglaize County rival. Fort Recovery (6-2) also returns to the court today when they host cross-border rival Jay County.