Wednesday, September 3rd, 2014
Flyers get past Bulldogs in three
By Colin Foster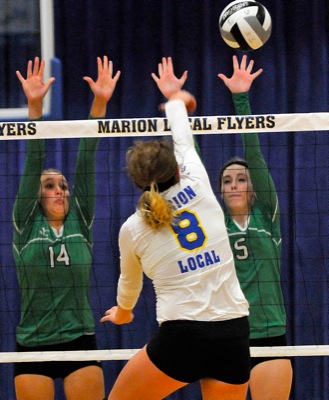 MARIA STEIN - Marion Local volleyball coach Megan Campbell wants her team to play to their strengths.
The Flyers did just that, and took advantage of a few unforced Celina mistakes, in Tuesday night's three-set victory at the Hangar. Marion Local defeated the Bulldogs by scores of 25-13, 25-17, 25-16 and bumped its record to 4-2 in the process.
"I think seeing Versailles last Thursday made us realize most teams are going to be a lot taller than us and we've got to be smarter about how we play. I think we have matured over the past few days in practice," Campbell said. " ... I mean we're going to face a lot of teams that are much bigger than us; (Versailles) was pretty tall, Celina was tall and Fort Recovery's very tall also. We need to be smarter volleyball players and I think we showed that today. We were a little smarter about our decisions today."
Celina started with a 4-0 lead in the opening set behind a couple service points and an ace by Cora Lutz. But after three ties and four lead changes, the Flyers finally took the lead for good on a kill by Makenzie Albers, which made the score 7-6. Marion pushed its lead to double digits late and Chloe Bertke's block finished off the job at 25-13.
The Flyers led from point three on in the second set, pushing their lead to six on three separate occasions. Celina cut the deficit to 21-17, but in the end, hitting four serves in the net and a handful of other miscues were too much for the Bulldogs to overcome. Jessie Kramer had a pair of aces and Emily Mescher's block closed the game out at 25-17.
Game 3 was a little more back and forth. Celina turned an early 5-3 deficit into a 7-5 advantage after a pair of aces by Alli Darras. Marion Local put together a four-point run to go back in front before Celina had a 5-0 spurt to regain a 12-9 lead. Marion battled back to tie the score at 13. Then Kramer began a service spree - which included one ace - and it concluded with the Flyers taking a commanding 22-14 lead to put the game away.
"We missed some serves. When our passing is on, we're not finishing at the net," Celina coach Amy Sutter explained. "We all kind of take our turns making those mistakes. We're not all in sync at the same time and we've got to find a way to raise the consistency."
The Flyers were led by Meg Schwieterman (12 kills) and Andrea Wynk (7) in the kill department. Allie Thobe contributed 16 digs and Kramer added seven.
Lutz and Megan Imwalle had five kills each to lead Celina, Paige Sutter contributed 14 assists and Alexis Zacharias added 16 digs.
The Bulldogs drop to 3-4 with the loss and have a home game against Western Buckeye League rival Ottawa-Glandorf on deck Thursday.
"I think we're still trying to feel each other out and trust each other to take care of our own walls and take care of our own jobs. The consistency thing is something we're going to try to stress and work on and improve on ... We've got some really good hitters, it just didn't show tonight."
Marion Local also defeated the Celina junior varsity and freshmen teams in two sets.
The Flyers return to MAC action on Thursday at Fort Recovery.