Friday, September 12th, 2014
Redskins hold off Indians
By Colin Foster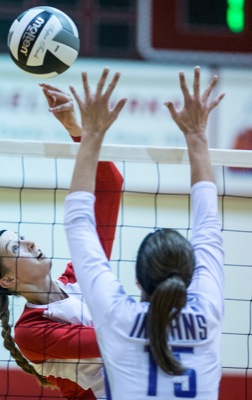 ST. HENRY - Fort Recovery's height at the net went up against St. Henry's crisp service and passing game on Thursday night in Midwest Athletic Conference volleyball action.
It took five sets and nearly two hours to decide an outcome, but it was St. Henry, the fourth-ranked team in Division IV, taking control in the fifth and final set for a 15-9 victory to walk away a 3-2 winner over the Indians at Redskin Gymnasium.
The teams matched each other point for point in the final set up to 7-7 before St. Henry took over for good. An empathic kill by Claudia Heitkamp capped a three-point Redskin run to make the score 10-7. Heitkamp followed shortly after with her 10th kill of the night to make it 14-9 and then she dropped down an ace for the final point.
"I give Fort Recovery credit," said an exhausted St. Henry coach Diana Kramer after the win. "They continued to battle. They continued to fight. They continued to stay aggressive. We had our moments. We were up and down a little bit, but it's always good to beat a good team, to beat an MAC team, and I'm proud of the girls for finishing. That 15-point game we actually earned points. We didn't wait for them to make mistakes. We stayed aggressive. We stayed out there and we went and got it."
St. Henry won Game 1 with relative ease, going up 5-0 out of the gate behind the service of Katie Gerlach. The Redskins kept that distance for most of the way and cruised to a 25-17 win.
The second set featured 14 ties. In the end, it was the resilient Indians outlasting the 'Skins for a 27-25 victory. St. Henry broke a 13-13 tie with a three-point run but Fort Recovery responded with three consecutive points of its own to knot up the score again. After another three-point spree by the Redskins, Fort Recovery rallied to tie it once again at 19-all. The Indians went down 21-19 and then rallied for four-straight points to take the lead. Then St. Henry scored two quick to tie the set at 23s. With the Indians up 26-25, St. Henry hit into the net on a kill attempt to even the match.
There were no ties or lead changes in the third set. St. Henry again won, however, in rather convincing fashion, leading from wire-to-wire to the tune of a 25-16 win. Back-to-back Ellie Stammen kills - her seventh and eighth of the game - gave the Redskins their largest lead of the set at 18-8.
Fort Recovery's Kendra Siefring had a block party in the fourth set. The junior tallied six blocks in another highly competitive contest. St. Henry went up 7-4 early before consecutive stuffs by Siefring cut the deficit to one. Shortly after, Siefring had another block to tie the set at 8-all and then the Indians took a 10-8 advantage. The Redskins offered a four-point rebuttal to go back in front and eventually gained a 20-16 lead. After Fort Recovery coach Chelsea Rogers called timeout, her team came back to outscore St. Henry 9-5 in the final stretch to force a fifth set.
Despite losing, Rogers said she likes the direction her team is going and respected the effort they put forth on Thursday.
"(Fort Recovery) has had some years where they had below .500 records, so they don't know exactly what it takes to win yet," Rogers said. "But we're right on the edge. It's just a matter of time before we shock some teams. I truly believe we have some seniors and some leadership that will get us there eventually."
The first-year Fort Recovery coach did say, however, they need to work on closing out games. The Indians are 7-5 with MAC games at New Bremen (Tuesday) and at home against Parkway (Thursday).
"We just don't know (how to) get over that edge of finishing the game," Rogers said. "We lost mental focus there. As I told them, it takes all six of them plus the bench. If one person is not mentally focused, it's weakness on the entire team."
Siefring led the way for the Indians with 10 kills and eight blocks, Tori Lennartz tallied seven kills and Morgan Lennartz added six kills and three blocks. Maddie Glover contributed 16 digs.
St. Henry had a trio of players reach double-digit kills, including Madison Broering (11), Heitkamp (10) and Ellie Stammen (10). Olivia Stahl accounted for nine kills as well. Broering also registered 32 assists and Kenisa Post added 22 digs.
"We served extremely well," Kramer said. "We beat them in the service game and in the passing game. They beat us in the front-row game. Defense won tonight."
The Redskins (9-2) return to the court Saturday at the OIO Volleyball Invitational at Bath.