Saturday, November 8th, 2014
Wildcats survive Indians in double OT
Division VI Football Regional Quarterfinals
By Colin Foster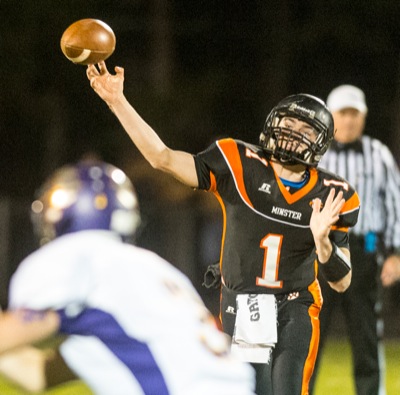 MINSTER - The Minster Wildcats have had a flare for dramatics.
Friday night's opening round Division VI, Region 22 playoff game against Mechanicsburg was no exception.
The third-seeded Wildcats came-from-behind to defeat the sixth-seeded, defending regional champion Mechanicsburg Indians, 42-41, in a double overtime thriller that came down to the final play at Memorial Field.
Minster took its first lead of the night on a six-yard pitch-and-catch from quarterback Josh Nixon to Eli Wolf to open the second overtime. Mechanicsburg quarterback Kaleb Romero responded with a seven-yard scoring pass to Tim Rader and the Indians elected to go for the game-winning two-point try. Romero, however, was tripped up just inches shy of the goal line and Minster celebrated.
The win pins the Wildcats against Midwest Athletic Conference rival Versailles in the regional semifinal next Friday at a site to be determined. The Wildcats were 34-19 victors over the Tigers in Week Five.
"That was as hard a played football game as maybe I've ever been part of," Minster coach Geron Stokes said. "It was two teams just going at each other. We made mistakes, their kids made mistakes. We made plays, their kids made plays. That was just a really, really good high school football game."
Possibly the best of the season.
Mechanicsburg controlled the time of possession for much of the game - with a 34:50-13:10 advantage - and nabbed a two-touchdown lead in the first half on a pair of runs by Aeryton Erwin, his second coming on a fourth-and-goal from four yards out with 59 seconds to go.
The Wildcat offense got some momentum just before half with a six-play, 67-yard drive capped off by a five-yard touchdown pass to Wolf. Nixon and Wolf combined for 46 yards on the drive and Nixon's 35-yard completion to Jacob Dues set up the score.
A pair of pass interference calls set Minster up nicely in Indian territory to open the third quarter. Shortly after, Nixon lofted a pass towards the end zone for Dues, who ripped the ball away from a Mechanicsburg defender for a 24-yard touchdown, tying the game at 14-all.
With the momentum on its side, Minster forced a third-and-long on the ensuing Indian series, but Erwin broke free for a 72-yard run. A few plays later, Romero called his own number for a five-yard touchdown to put the Indians back in front.
Three plays after, though, the game was tied back up as Nixon heaved a perfect spiral into the arms of Dues for a 33-yard touchdown.
The Minster defense finally forced a Mechanicsburg punt - one of three total in the game - on the following series, but any thought of taking a lead was killed when Nixon was intercepted by Jacob Bowers with 2:30 to play in the quarter. Erwin put the Indians back in front with a one-yard rushing touchdown on a fourth down in the opening minutes of the final period.
After Minster moved into Indian territory on its followup drive, Nixon was picked off once more, this time by Logan Hartman, putting the Indians seven minutes from victory. Romero and Erwin ran for key first downs on three different third-and-short attempts, but the Wildcats held on a fourth-and-one and took over at their own 29 with 1:43 to play and no timeouts left.
"That was huge," Stokes said. "We talk about that in our practice sessions and our weight room sessions ... just scrap, just fight. Hopefully you make a really good play at the end and we did."
Minster was down to its final play twice on its last series, but Nixon and the receiving corps kept the drive alive. Nixon hit Bryce Schmiesing for a gain of 14 on a fourth-and-10 and then connected with Dues for another gain of 14 on a fourth-and-long. Sam Dues had a 17-yard reception on a third-and-10 to move the ball down to the Indian 28. Then Nixon lofted a deep pass to Wolf in double coverage for a 28-yard touchdown with 16 seconds left. Jason Schultz's extra point tied the game to force OT.
"What a play by him," said Stokes about Wolf. "I'm glad he's on our team."
The first overtime featured a total of three plays. Joe Ziegler caught a 19-yard pass from Romero on the opening series and then Erwin rumbled in from one yard out. Schmiesing caught a 20-yard touchdown pass from Nixon on Minster's first play.
The Wildcats won despite giving up 404 yards on the ground. Romero and Erwin, both 1,000-yard rushers in the regular season, accounted for more than 300 yards between them. Romero, a sophomore, had 30 carries for 158 yards and Erwin added 36 carries for 156 yards.
Nixon went 16-of-31 passing for 280 yards. Dues had five catches for 120 yards and Wolf, who was double covered all night, caught five passes for 81 yards. Schultz was a perfect 7-of-7 on extra points.
The Wildcats are no strangers to close games. They had a stretch of three straight games decided by 20 total points during the final half of the season. With tough teams left in the playoff pool, even more wild finishes could still be to come for Minster.
"I'd like to win by 60 if we could," Stokes joked. "These are good. This is good for our kids. The adversity, battling back and forth, is really good for our kids."