Wednesday, December 24th, 2014
Roughriders pin down Titans
By Gary R. Rasberry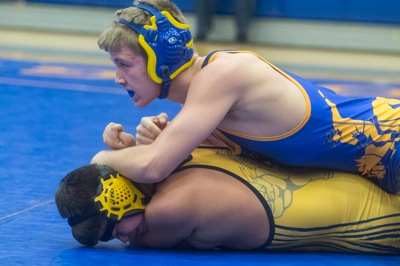 ST. MARYS - Staked by a strong start, St. Marys improved to 2-1 in Western Buckeye League wrestling matches after defeating Ottawa-Glandorf 44-28 on Senior Night at Murotech Court.
"Both of us (St. Marys and O-G) are down right now," St. Marys coach Larry Gruber said. "We have kids that are sick. It was going to be an interesting match and we figured it would be close."
The Titans voided the 132-pound bout to give St. Marys at 6-0 lead right off the bat. Austin Quellhorst quickly made it 11-0 after winning via a 15-0 technical fall over Grant Goecke at 138 pounds. Boston Hensley scored the Roughriders' first pinfall win of the night, putting Colton Warnecke to the mat in two minutes and 42 seconds at 145 pounds.
Ottawa-Glandorf came back in the next two bouts. Tyler Ebbskotte won via an 11-4 major decision over Tyler Miller at 152 and then Daniel Beemer pinned Jonathan Vogel in 3:17 at 160 pounds.
St. Marys won two of the next three bouts via the pin. Jaden Heitkamp pinned Ruben Lugo in 2:45 at 170 pounds. After O-G's Trenton Meyer returned the favor at 182 with a pin of Austin Giesege in 4:44, Spencer Knous gave the Roughriders a 29-16 lead, needing only 54 seconds to pin Lane Brooks at 195 pounds.
Both teams voided at 220 and the Titans won via the void at 285 to make it 29-22. St. Marys, needing to keep the Titans at bay, came through in the next two bouts. Austin Drummond took down Nate Huffman and came through with a pin in 1:27 to make it 35-22. Justin Nedderman faced a tough Le'On Palomo at 113 pounds, and needed a pin to clinch the match. Nedderman led 3-2 after the first period with neither wrestler scoring in the second. Finally in the third, Nedderman was able to turn Palomo over for the pin with just 38 seconds left in the bout to make it 41-22 to secure the team win.
The Titans got its last pin at 120 pounds as Brent Siefker scored the fall over Brandon Patterson in 4:32 before Sam Maze won 4-0 over T.J. Nelson in the final bout of the night at 126 pounds.
"We had to get some pins and keep kids from getting pinned," Gruber said. "That was the whole difference in the match.
"We got a couple pins when we needed them. That put us far enough ahead that (O-G) couldn't catch up."
In the only junior varsity bout of the night, St. Marys' Bailey Sparks pinned Noah Puente.
St. Marys is back in action Dec. 29 at the Marion Harding Invitational.