Friday, January 30th, 2015
Bulldogs get past 'Riders
By Dave Stilwell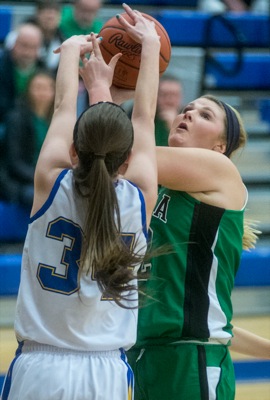 ST. MARYS - A 17-minute drought without a field goal is hard to bounce back from.
St. Marys nearly did.
After a frigid start, St. Marys scored more than half its points in the fourth quarter, but Celina was clutch at the free throw line down the stretch and held the Roughriders off 48-43 Thursday night at Murotech Court.
With the win Celina improves to 2-4 in the Western Buckeye League and 4-12 overall. With its fifth straight loss, St. Marys evens its record at 3-3 in the WBL and 8-8 overall.
With 3:47 left in the first quarter, Shania Taylor hit a driving layup to put the Roughriders up 8-4. St. Marys didn't score another field goal until 2:39 was left in the third quarter.
During that span, the Riders were 6-of-12 at the free throw line, while Celina scored 25 points to take a 29-14 lead.
A sticky man-to-man Bulldog defense limited St. Marys to just two-of-20 shooting in the first half, including 0-for-7 from behind the three-point line.
"Our man defense has been getting better the last few weeks and the kids are getting more confident with it," Celina coach Toma Hainline said. "I told our girls, 'everyone on St. Marys can shoot threes and everyone can drive, so you have to play good one-on-one defense.' "
Roughrider coach Nikki Miars said her players lost their confidence early.
"It's frustrating," she said. "When they miss their first couple shots, their heads' go down and in basketball, you just can't do that. You've got to stay with it and figure out a way to score."
Down by 15, the Riders put together a 6-0 run late in the third quarter to cut Celina's lead to 29-20. But the run included three missed free throws.
Caelyn Reineke hit her second three-pointer at the end of the third quarter to put Celina up 32-20.
St. Marys opened the fourth quarter with a 10-2 run, cutting Celina's lead to 34-30 with 3:23 left to play, but the Riders, again, left points at the free throw line, missing three charity tosses during the run. For the game, St. Marys was 23-of-36 at the foul line, missing 13 free throws.
"We make those and it's a different game," Miars said. 
What St. Marys couldn't do, Heather Heiby did. The Celina junior was 13-of-14 at the free throw line, including 9-of-10 in the last five minutes of the game.
Heiby and Kelly Stahl rebuilt Celina's lead to 40-33 with 2:15 left to play.
St. Marys junior Erika Angstmann, who had 14 of her game-high 20 points in the fourth quarter helped the Roughriders pull to within three, 43-40 with 1:05 left to play, but the Bulldogs madee five of six free throws in the final 49 seconds to seal the win.
"I thought my kids stepped up when it counted and made some big free throws there at the end," Hainline said. "Especially Heiby. She's the one we want on the line."
Heiby finished with 18 points to pace the Bulldogs. Stahl netted a double-double with 14 points and 12 rebounds.
And for all of the Riders' offensive woes early on, Miars was pleased that her team made a run at the end.
"They didn't give up and we were still diving for loose balls," she said. "This is a learning process. We're going to hang in there and keep working."
The Roughriders host New Knoxville Saturday and travel to Defiance for a WBL contest next Thursday. The Bulldogs host Lima Senior Tuesday and Van Wert Thursday.