Saturday, April 4th, 2015
Painting the town for Easter
Celina woman crafts holiday decorations
By David Giesige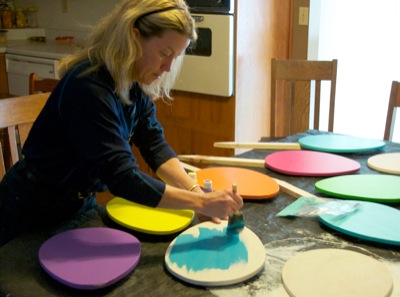 CELINA - The Easter Bunny, witches, Santa Claus and Brutus Buckeye have one thing in common: all have adorned local lawns as yard signs made by Brenda Robinson.
"If it's a wooden sign around here, if it looks good and it looks detailed, it's probably made by me," the 45-year-old Celina resident said. The past few weeks, most of her time has been dedicated to making her signature waving Easter Bunny and Easter egg yard signs.
Along with her Easter signs, Robinson makes signs for holidays, local and professional sports teams, and "pretty much anything else that people call in and order."
She started painting in 1982, and the casual hobby "grew and grew and grew."
Robinson keeps busy with the orders that pour in every day for her homemade yard signs, which can take up to two days to complete, she said.
"I have to buy the plywood. Then I cut out the design - I make my own patterns, then I sand it, prime it, put a coat of paint on, then two more coats, then paint the details on. Then I put a coat of polyurethane on top," Robinson explained.
Everything is done by hand, making each piece "a one-of-a-kind."
She began the Easter signs when she noticed people did not decorate as much then as for other holidays.
"People decorate for other holidays but I never saw anything for Easter," Robinson said. "And after a long, hard winter, who doesn't want to see cute little rabbits and brightly colored eggs?"
"They bring smiles to people's faces, and that's why I do it," she said. "I think my signs bring some life to the city."
The first year she made Easter Bunny signs, she couldn't keep up with the orders.
"It was nonstop painting, I wanted Easter to end," she said, laughing. This year, 10 people wanted Easter signs.
"I want to make them so people can afford them. I could sell them for more, but then less people would buy them. What good would they do sitting in my garage when they could be brightening someone's lawn?" she said.
"When I first started, paint was $12 a gallon and now it is $32. Exterior plywood was $16 and now it's $36. They probably should be worth $300 but I sell them for around $85," she said with a shrug.
"Sometimes I get frustrated and just want to throw everything away. You wonder if it is worth your time, you know? But as long as I'm enjoying it, I'll keep doing it," she said.
"When God gives you a talent, you're supposed to use it. Maybe that's what I'm doing," she said.
She also helps decorate downtown Celina during the holidays, painted the Quilted Rock, helped maintain the courthouse Santa house every year and helped repair the fish float.
The Easter Bunny and Easter egg traditions have always fascinated her, she said.
According to the History Channel, the exact origins of the Easter Bunny tradition are unknown. However, historians estimate that German immigrants brought the idea of an egg-laying rabbit - the "Osterhase" - with them to the United States sometime in the 1700s. The bunny has a long history in a variety of folklores as a symbol for fertility and new life.
Easter eggs date back to the 13th century. Although some scholars link the tradition to ancient pagan traditions, the Christian perspective links Easter eggs to the resurrection of Jesus Christ.