Thursday, April 9th, 2015
Grand Lake hatchery fishing for a good crop
By Nancy Allen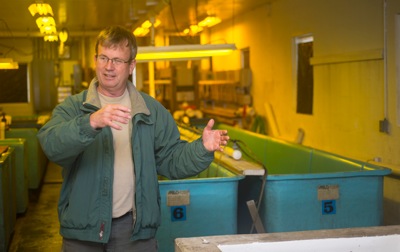 ST. MARYS - The Grand Lake St. Marys Fish Hatchery on Wednesday bustled with activity as officials tended to more than 50 million fertilized yellow perch and saugeye fish eggs.
"We started using this method some years ago," said hatchery supervisor Mort Pugh as he gestured to water-filled tanks containing ribbons of yellow perch eggs draped over chicken wire. "A guy from Wisconsin came up with it."
At the other end of the building, water in several tall, transparent hatching jars churned around saugeye eggs. The eggs are expected to start hatching in about a week.
Pugh said about 10,000 of the yellow perch will be stocked in Grand Lake this summer as 1 to 1 1/2-inch-long fingerlings. The rest will go to public lakes in northwest Ohio. All of the saugeye will be stocked in public lakes and ponds.
In a separate room, several workers lined cardboard boxes with plastic bags into which they poured water containing 50,000 yellow perch fry per box. Fry are newly hatched fish that measure one-eighth to one-quarter of an inch long depending on the species.
"Today we'll ship 2.3 million yellow perch fry to stock in two reservoirs in Lima," Pugh said of the boxes.
Using a net, Pugh scooped two adult yellow perch used for brood stock from a tank. The greenish-yellow striped fish, each about 11 inches long, thrashed around in the net.
"They're the best eating fish I think," he said of the perch. "Better than walleye or saugeye."
State officials Sunday will return to the Maumee River to gather 10 million more saugeye eggs and 6 million walleye eggs to be hatched at the facility.
In 1999 the state began stocking Grand Lake with walleye to add new fishing opportunities. By 2012 the state had stocked almost 56.4 million of the species in the 13,500-acre lake. However, that program was discontinued because the number of fish being caught did not justify the expense, Pugh said.
In 2009 and 2010 the state stocked Grand Lake with 219,124 triploid saugeye, a hardy species that cannot reproduce. The state could not stock the lake with regular saugeye because the fish could end up in Lake Erie and jeopardize the multimillion-dollar walleye fishing industry, Pugh said. The state also discontinued these stockings because the survival rate was very low, Pugh said.
"Several states had tried it, but they abandoned it because of the cost," Pugh said of the triploid saugeye.
More recently the state has tried to establish yellow perch in Grand Lake, stocking 311,872 of the fish over the last three years. A fourth stocking is planned in June.
Pugh said it's still too early to tell whether the state will continue that stocking program.
He said he's received reports of more people catching small perch in recent years. Anglers continue to snag walleye in Beaver Creek at the base of the West Bank spillway in Celina, he added.
For the first time this summer, the local hatchery will start raising blue catfish, a popular gamefish. Those fish will not be stocked in Grand Lake.
Located on 161 acres, the St. Marys State Fish Hatchery has 25 fish-raising ponds. Water from Grand Lake and two wells is used in the ponds.
The state has stocked just more than 56.9 million fish in Grand Lake since 1999. In prior decades, smaller numbers of surplus northern pike, largemouth bass, striped bass and flathead catfish were stocked in Grand Lake.
The local hatchery off state Route 364 along Grand Lake's eastern shore is one of six in the state. The others are in Hebron, Senecaville, London, Castalia and Latham.

Correction:
Around 100,000 fingerling size yellow perch will be stocked in Grand Lake this summer, not 10,000.
The error was made in reporting.