Friday, April 24th, 2015
Panthers' bats stay hot in win over Cardinals
By Gary R. Rasberry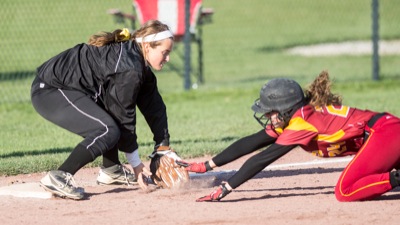 NEW BREMEN- The chilly and windy conditions did little to cool down the bats of Parkway on Thursday.
The Panthers belted out 20 hits and scored 11 runs over the final three innings to pick up a 15-2 win over New Bremen in Midwest Athletic Conference softball play at New Bremen High School.
The Panthers go to 8-1 and 2-0 in the MAC going into a big conference game on Monday at home against Versailles.
The Parkway hit parade picked up steam after the Cardinals, who were stymied early by good pitching from Kayle Heckler, halved a 4-0 lead in the fourth on Jenna Bertke's two-run single that scored courtesy runner Jenna Broerman, running for catcher Debbie Paul, and Cassidy Smith.
"We swung it really well," Parkway coach Mark Esselstein said. "We're capable of doing that, but have been in a little bit of a slump. Part of that is you play a day, sit for four days. This is the fourth week of the season and we have played nine games. Hopefully we get in a rhythm of hitting."
"I had to wake them up a bit, saying 'We're down 4-0. We're in this game.' Debbie Paul got us going," New Bremen coach Craig Griesdorn said. "Jenna (Bertke) got the big hit for us. We knock in two and we're down 4-2."
In the top of the fifth, Selena Burtch, Alisa Gray and Bailey Bates had consecutive RBI singles to put the Panther lead back to 7-2.
In the sixth, Parkway sent nine batters to the plate and used four straight singles to plate four runs. Terra Walls, who hit a solo home run in the third inning, drove in two runs with a single.
The final burst came in the seventh with four more runs. Mackenzie Sipe had a pinch-hit double to drive in two runs.
"You have to give Parkway credit. They just hit the smack out of the ball," Griesdorn said. "We've got to bear down in that situation."
Heckler was solid in picking up the win. After giving up the two runs in the fourth, Heckler allowed just three base hits.
"Kayle pitched well. We made some good defense and didn't give them extra bases," Esselstein said. "The one we made an error on (in the sixth), we made the relay and shot (the runner down) at third.
"It was a complete win for us. Bremen has a nice team. We know as far as where we needed to be in the league, we had to have this one."
Terra Walls finished the day 4-for-5 with a double, home run, three runs scored and six RBIs. Burtch and Kayla Walls each had three hits while Haley Hawk, Hecker and Bates added two hits.
Paul went 3-for-3 with two doubles for New Bremen.
Parkway is scheduled to face Van Wert on Saturday in a doubleheader. New Bremen is off until Tuesday when it visits Fairlawn.