Tuesday, April 28th, 2015
Cavaliers defeat Flyers in ninth
By Colin Foster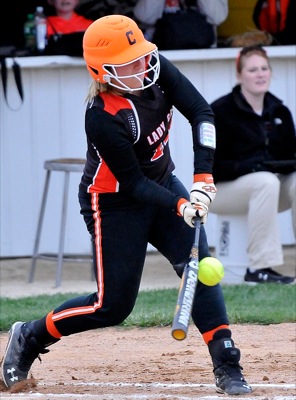 COLDWATER - Coldwater battled back from a two-run deficit to take a 5-3 lead on Marion Local in the fifth inning and extended its cushion to three runs entering the seventh. Marion Local's Claudia Mescher sent the game to extra innings with a three-run homer in the top of the seventh.
A game that was a pitcher's duel for three innings turned into a hitting fest - and the Cavaliers were the ones who came out on top, taking advantage of a pair of Marion errors in the bottom of the ninth to plate the winning run in an 8-7 Midwest Athletic Conference victory Monday at Lady Cavalier Diamond.
"I think they just wanted to play more innings because we've got seven games scheduled this week," Coldwater coach Ken Fisher joked.
After going down 1-2-3 in the seventh and stranding a runner on second in the eighth, the Cavaliers finished the job thanks to consecutive errors by the Flyers. Lexi Meyer opened the inning with a grounder to third and advanced to second on the overthrow. Rachel Klenke put down a bunt and the throw to first went wild, allowing Meyer to plate the winning run.
"Give them credit for coming back like that," Fisher said. "We get up 7-4 and then they hit that three-run home run to tie it. It was just a battle back and forth defensively. I'm so proud of Rachel getting that bunt down. When you get the ball in play, good things can happen, and that proves it right there."
The Flyers put their first run on the scoreboard in the top of the second. Hannah Homan reached second on an outfield error, advanced to third on a sacrifice fly by Maddie Griesdorn and scored on a passed ball.
Cavalier starter Emma Homan gave up her first hit with two outs in the fourth. Her counterpart, Taylor Homan, was also cruising, allowing just two baserunners through the first three innings and only one hit.
Coldwater, however, tied the score at 1-all in the fourth. Leah Homan came up with a one-out single and scored on Maura Hoying's rocket-shot double to the fence.
Chloe Bertke and Taylor Homan drew back-to-back walks with one out in the top of the fifth, spelling the end for Coldwater's Emma Homan. Alanna Severt came on the hill and gave up an RBI groundout to Hannah Homan and an RBI single to Sarah Fesenmyer to make the score 3-1, a lead that didn't last long.
Rachel Klenke hit a two-run double in the bottom half of the fifth to tie the game and then Leah Homan smoked a two-run homer on the next at-bat for a 5-3 advantage.
The Flyers added one run in the sixth on a single by Chloe Bertke but then Lexi Meyer extended the Coldwater lead to 7-4 with a two-out, two-run single in the bottom frame. That, however, only set up Mescher's heroics in the seventh.
Singles by Taylor Homan and Fesenmyer set the table for Mescher's clutch knock.
"We battled back. Claudia Mescher had an excellent hit that put us back in the game. That couldn't have come at a better time," Marion Local coach Julie Overman said.
The Flyers finished with 10 hits. Fesenmyer went 2-for-5 with an RBI, Macey Griesdorn had two doubles and Bertke ended 2-for-3 with an RBI. Marion Local also committed four errors.
"We made one error in the sixth inning and then we made another error and another error. That's all it took for them to get back into the game and go in front," Overman said. "We hit the crap out of the ball the whole game. We hit the crap out of the ball every game. We leave too many runners on base, that's our downfall.
"Offensively, my team is playing well. We just can't make those errors at crucial times."
The Flyers fall to 7-6 overall and 1-3 in MAC play. They return to league play Thursday at home against Minster.
Fisher admitted to being disappointed with the energy level in the dugout through the first three innings, but his team brought it from that point on - tallying eight hits and scoring seven runs spanning from the fourth to sixth. The Cavaliers lineup matched Marion with 10 hits. Meyer led the way, going 3-for-4 with a pair of RBIs and two runs scored. Leah Homan added two hits, two RBIs and two runs.
"Our first two MAC games we got down really quick. This time, we didn't allow that to happen," Fisher said. "We still didn't have that energy level where it needed it to be.
"I thought fourth inning or right around there, things started rolling a little bit. We got some things going and that brought that energy. I told them, 'Part of that is you created that energy with some of our hits. But when things aren't going right, we've got to create that energy on our own.' When things are going bad, you've got to create some energy to make things go good."
The Cavaliers will look to keep that positive energy going today when they travel to play Russia.