Wednesday, June 24th, 2015
Mariners hold off Copperheads for 5-3 win
By Gary R. Rasberry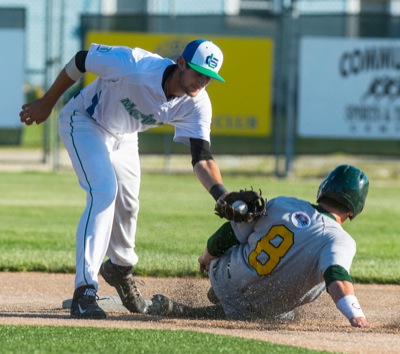 CELINA - The Grand Lake Mariners scored all their runs with two outs in the fourth and sixth innings as they picked up a 5-3 win over Southern Ohio Tuesday night at Montgomery Field.
Seven of the Mariners' 11 hits came after two outs were already on the board, something head coach Sam Slavik liked to see.
"That's a big deal. That's something we haven't been doing the last week," said Slavik. "We've been leaving a lot of guys on base. Tonight was the opposite of that (Mariners left seven men on). Hopefully we can continue to knock guys in."
The first barrage came in the bottom of the fourth in a scoreless game. After two straight groundouts, Dalton Bollinger doubled off Copperheads starter Trent Astle, the recently named GLSCL pitcher of the week. Shorty after, Bollinger was replaced at second by Matt Smith, who doubled to center to make it 1-0. Nick Roscetti followed with an RBI single to put the Mariners up 2-0.
The Copperheads, with 10 wins on the season already, chipped away with a run in the fifth on Ted Williams' RBI single and then tied the game in the sixth on Grant Wruble's solo home run off Mariners' starter Trent Lunsford. Lunsford was relieved by Jake Bartels after giving up a single, with Bartels getting three straight outs to get out of the jam.
Grand Lake quickly responded. After Astle got the first two outs, Roscetti and Tyler Frank hit back-to-back singles to put two on for Robert Greenman, who hit the Mariners' third straight single to break the tie as Roscetti scored. Derek Parola cleared the bases with a double to right-center to make it 5-2.
"They just had good at-bats," Slavik said. "They knew (Astle) wasn't going to beat them, so they waited on their pitches and hit it when they needed to."
Bartels got through the seventh unscathed before turning the ball over to Austin Flores in the eighth. Flores struck out two to keep Southern Ohio scoreless.
In the ninth, Flores walked pinch-hitter Tony Giannini to lead off the inning. After a wild pitch, pinch-hitter Connor Callery singled in the runner to cut it to 5-3. After Watters walked Trevor Ezell, Slavik called on St. Henry graduate Jeff Paul to try and get out of the jam. Paul enticed Chris Osborne to fly to Frank in right field for the first out. Wruble stepped up and lofted a short fly to right for the second out. Callery, thinking the ball was hit deeper, took off for home. Frank came up firing a laser to Greenman, who put the tag on a stopped Callery for the game-ending out.
"I knew they were going to send him from third, but I thought Tyler would make a throw to first," Slavik said. "Then I was scared because Dalton wasn't at first (but) he was where he needed to be for the cutoff position. Tyler threw a strike and we had him dead at the plate. That was a good thing, because they would have had the tying run at second base.
"If Jeff throws under 10 pitches, we're going to get a win," Slavik continued. "In the exhibitions when he threw more than 10 pitches, he got hit around a bit. Every time in the league, he hasn't given up a run and been under 10 pitches."
Bollinger went 2-for-4 with two doubles for Grand Lake. Frank added two hits.
The two teams complete their two-game series tonight at Montgomery Field at 7:05 p.m.