Friday, September 4th, 2015
Cardinals hold on to defeat Wildcats
By Robb Hemmelgarn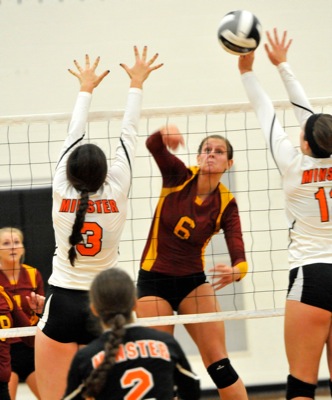 MINSTER - Heading into this season, New Bremen head volleyball coach Theresa Jenkins felt her Cardinals had the potential to finish in the "top two or three" of the Midwest Athletic Conference.
By opening conference play with a grind-it-out 20-25, 25-22, 25-23, 20-25, 15-12 triumph in Minster on Thursday night, her squad certainly took a step in the right direction.
"Tonight was good volleyball. We know every year this is going to be a fight and tonight was certainly a great matchup on both sides of the court," Jenkins remarked. "Neither team made many mistakes. It was just good, solid volleyball and it's nice to get that first MAC win."
The Cardinals looked primed for dominance in game one when an ace from senior Devon Heitkamp put her team up 13-6. The Wildcats, however, methodically clawed their way back and eventually took the lead with a pivotal strike from senior Katie Wuebker, putting Minster in charge, 18-17. The Wildcats followed up with seven of the game's next 10 points to move in front one game to none.
"We came out strong right away and didn't allow them to get a lot of big runs," Minster head coach Cami Garman pointed out. "We dictated the pace of the first game and played very clean and played within ourselves."
Both team traded punches in game two, and although New Bremen stayed in charge throughout, they never held more than a two-point advantage. With the scoreboard tangled at 18 late in the fight, New Bremen's Alyse Clune kept the Wildcats at-bay by dishing up four straight points and eventually taking the 25-22 victory. The Wildcats seemed to regain momentum in game three by staving off several Cardinal rallies as well as the powerful, floor-shaking kills from sophomore Paige Jones. With several lead changes in the final half of the game, New Bremen polished off things with a missile of a slam from Heitkamp before she then teamed up with Kaitlyn Schwieterman for a monster block to award the visitors the 25-23 victory.
"I felt like we broke a little in communication in the first game, so we knew in games two and three we needed to go out and get after it," Jenkins advised. "Devon and Paige both had outstanding games tonight and as a team, we really played well together."
Not yet down for the count, the Wildcats constructed an 18-11 cushion in game four when Wuebker's tip slipped by the New Bremen defense. Soon the lead was extended to 20-12 with a kill by junior Jordyn Heitbrink, who finished with a team-high 16 kills. The Cardinals managed to trim their deficit to four points a couple of times throughout the rest of the game, but Rosie Westerbeck's back-row slam pushed the battle to game five.
It was obvious neither team wanted to begin its campaign 0-1 in the MAC, and after six ties and three lead changes, the score stood knotted at 10 points apiece. The Cardinals, however, nabbed five of the final seven points of the night and shut things down when Heitkamp unleashed her 26th kill of the evening, which ricocheted off of Minster's defense for the match point.
"We knew it would be a solid test for us tonight, but in some ways, I am pleased because we played like a completely different team than we did last week," Garman commented. "This was one of the better games I have seen in a long time. Everyone earned their points and it was a real fight from beginning to end."
With the victory, New Bremen moved to 4-1 overall and 1-0 in the MAC, while Minster fell to 2-3 and 0-1 in the conference. The Cardinals are back in action Saturday at home against Jackson Center. Minster heads to the Lehman Invitational Saturday, facing Anna in the opening match.