Tuesday, October 13th, 2015
St. Marys controls game, cruises to 3-1 win
By Colin Foster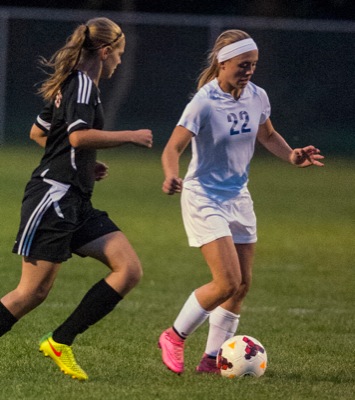 ST. MARYS - Josie Bowman scored two goals and added an assist to lead St. Marys to a 3-1 win over Fort Jennings at Roughrider Field.
The game got temporarily close in the second half but the outcome was never really in doubt. St. Marys had control the entire way.
Fort Jennings' Brandi Kaskel capitalized on a penalty kick opportunity with 21:51 to play in the match, cutting the St. Marys' lead to 2-1. Less than three minutes later, Courtney Helmlinger took Bowman's pass and snuck it past Musketeer keeper Vanessa Wallenhorst.
The Roughriders (6-5-4) had flirted with scoring on multiple occasions in the opening half. Sydney Cisco had a breakaway chance with 18 minutes to play but the shot was denied on a nice save by Wallenhorst, who finished the night with double digits in saves. St. Marys had a shot deflected off the post minutes later. Shortly after, Cisco delivered a nice pass in the box to a waiting Bowman, who used her head to put it into the back of the net with 9:22 left in the first half.
Bowman struck again six minutes into the second half and extended the Roughriders' lead to 2-0.
"Having a game (today against Ottawa-Glandorf), we wanted to take it easy on the starters, not play them as much. Their job was to get job done quickly," St. Marys coach Seth Hertenstein said. "In the first half, we got that one goal, and that was good. In the second half, we really needed to come out and take a controlling lead, and they did the job.
"We just wanted to control the game, possess the ball, and we did what we wanted to do."
St. Marys' goalie Baliey Fenwick-Miller finished the match with nine stops, including a diving save on a scoring attempt by Erin Eickholt midway through the opening half.
The Roughriders, who recently scored a big win over Wapakoneta in Western Buckeye League play, finish the regular season at home against the Titans before opening Division II tournament play at home with Kenton. The winner of that game gets WBL champion Bath in the sectional final.
Hertenstein likes the way his team is playing and added they are ready to make a tournament run.
"We're starting to realize how good we can be," he said. "When we put it together for a full 80, we'll be dangerous. We'll be able to beat anybody."