Friday, October 16th, 2015
MAC hardware belongs to Wildcats
MAC Cross Country Championships
By Colin Foster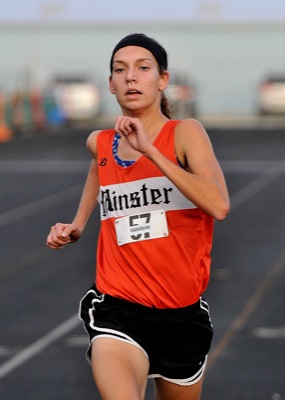 COLDWATER - The Midwest Athletic Conference cross country trophies belonged to the teams from Minster - every single one of them.
The Wildcat junior high and high school teams scored a clean sweep over the field at Cavalier Stadium on Thursday.
It was a perfect performance by the Minster girls, who claimed their third straight MAC title. The top-ranked girls team in Division III showed the reason why they were front-runners coming in, placing seven in the top eight spots and posting a perfect team score of 15 points. Versailles was runner-up with 75 points and St. Henry third with 103.
All seven of Minster's runners in the top eight finished with times under 20:13. Two seniors - Kaci Bornhorst and Maggie Meiring - ran lifetime personal bests of 18:56.40 and 19:27.70 to finish the race 1-2.
"As a senior, (Kaci) has definitely gotten a lot stronger, a lot more confident," Minster girls coach Jessie Magoto said. "She hit the 18s today for the first time ... For her to get a lifetime PR, to win as a senior, she deserves it. She busts her butt. She's a Class A person in everything she does - I just couldn't be happier for her.
"(Meiring) is another senior who had a huge, huge lifetime PR. To see my seniors stepping up, that's cool for me."
Morgan Pohl was close behind in third (19:37.18), Kaitlyn Albers finished fourth (19:45.14) and Madeline Magoto fifth (19:48.40). Lisa Barlage took seventh (19:52.42) and Julia Slonkosky eighth (20:12.05).
"Right now, I'm trying to just enjoy today," coach Magoto said. "This is the last day all 26 run together, so I try to think too much about the future. The MAC is always bitter sweet for us because the girls are always full of tears because two-thirds of our team will be finished after today. I love just watching them work together and push each other, and really as a team do it. It was awesome.
"Of course, looking into the future, there's strength in numbers. I like seeing the girls step it up and seeing what they can do. They showed some toughness today."
New Bremen's Makenna Brackman broke up the Minster pack with a sixth-place finish in a time of 19:52.42. Fort Recovery's Hannah Heitkamp placed ninth in 20:15.27 and Versailles Kara Spitzer rounded out the top 10 in 20:17.99. Also making the All-MAC team were St. Henry's Lindsey Schulze (11th, 20:20.84) and Fort Recovery's Chloe Will (12th, 20:21.21).
St. Henry finished third (103). New Bremen was fourth (119), Coldwater fifth (124), Fort Recovery sixth (128), Marion Local seventh (176) and Delphos St. John's eighth (217).
Topp's Minster teams have won a lot of trophies during his many years with the program. However, Topp admitted that winning an MAC title is still one of the more satisfying accomplishments.
Entering Thursday, the Wildcat boys had just one first-place finish on their resume, earned at their home meet. Title number two came rather handily as Minster - paced by Ben Butler's runner-up performance - put five runners in the top 14 and outscored second-place New Bremen 43-66.
"They put it together at the right time," Topp said. "It was a lot of good senior leadership by Ben Butler - and I've got to emphasize that. He worked his butt off to put this team back together. ... Together, they did it. They got focused and realized what was important today."
Versailles' Joe Spitzer won the individual title in a time of 16:31.43. Butler was a few steps back in 16:33.6 while his teammates Carter Pohl (fifth, 17:14.11) and Jon Albers (ninth, 17:30.20) also earned top-10 finishes. Ethan Monnin and Ryan Cavanaugh kept the Wildcat pack tight and locked down the championship trophy by placing in the top 15.
"It's what cross country is supposed to be," Topp said. "Our 2-5 runners have been running in a pack all year, but last week, we started to drop off. This week, they refocused and got it back together, and they just feed off each other. It makes a big difference."
New Bremen had two top-10 finishers in Cort Speckman (fourth, 17:07.27) and Jason Zircher (eighth, 17:29.62). Their teammate, Kaelen Reed, joined them on the All-MAC team with an 11th-place finish (17:43.18).
St. Henry's Devin Huelskamp earned bronze medalist honors as an individual (16:59.31) and so did his team with 77 points. The Redskins had three runners make the All-MAC team, including Braydon Hoying (10th, 17:37.89) and Sean Muhlenkamp (12th, 17:43.49).
Also in the front pack were Curtis Pohlman of St. John's (sixth, 17:21.78) and Parkway's Matt Gaerke (seventh, 17:26.87).
Versailles won a fourth-place, fifth-score tiebreaker with Parkway after each scored 113 points. Marion Local took sixth with 164 points, St. John's seventh (194), Coldwater eighth (196) and Fort Recovery ninth (204).
The Minster girls junior high team nearly duplicated what the high school group did. Minster's Emma Watcke cruised to victory in a time of 11:35.68 and the Wildcats put five runners in the top seven to win the team title with 20 points.
In the junior high boys race, Minster scored 30 points to come away with the team title. Parkway's Aaron Bruns was the individual champion with a time of 11:30.74.