Friday, November 27th, 2015
Area woman living in Paris talks of terror
By William Kincaid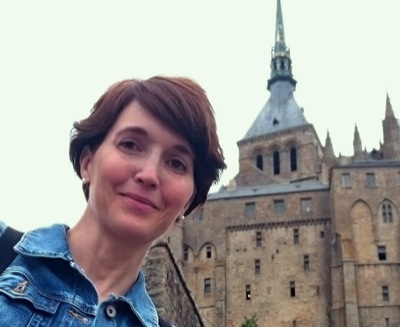 PARIS - Mercer County native Lucy Stewart, who lives in the city where terrorists on Nov. 13 killed at least 130 people, is getting by on the wisdom her mother, Ruth Kremer, shared during another tragedy.
"I remember calling my parents after 9/11," Stewart, 47, who moved to France in March, told the newspaper. "My mom told me during the period when MLK, Robert Kennedy and Bobby Kennedy were assassinated that they felt that the world was coming apart but it didn't. So I should remain calm. That's the plan but maybe Mass at Notre Dame Cathedral is out for now."
Stewart, who grew up on a small farm southeast of Montezuma, also finds hope in the rooster, the unofficial emblem of France.
"They see its crowing at dawn a sign of light winning over darkness, good over evil. I think of that message when I find myself being a little fearful. I will never look at the Heyne rooster statue on (U.S. Route) 127 the same," she said.
Stewart gave a firsthand account of living through a nearby terrorist attack. She and her husband and 6-year-old daughter, Vivienne, live in the 7th arrondissement of Paris, located south of the United Nations Educational, Scientific and Cultural Organization and the Eiffel Tower, just a few miles away from where terrorists struck in the 10th and 11th arrondissements (districts).
"I was woken up on the night of the attacks by my husband frantically calling from the U.S. to check on us," she said. "He had left that morning for a weeklong trip to the states. I was groggy and therefore a little confused at first at what he was talking about. Finally, I understood terror attacks had occurred in Paris."
She then went to the living room to turn on the news and realized that fear had gripped the apartment building.
"As I started to listen to the news, I heard the neighbor upstairs close his shutters and lock them," she said. "Being on the third floor, he does not usually do this. As I stayed up for the next three hours watching the news, I heard more shutters closing and being locked. So I did the same."
Stewart continued to watch the news, responded to Facebook messages from concerned friends and family, and tried to determine the emergency level and what she should do.
 "I heard distant sirens but no activity on our little street," she said.
 She signed up with the State Department's Smart Traveler Enrollment Program and began receiving "extremely helpful, no-nonsense information" from the U.S. Embassy in Paris.
"(I) finally went to sleep but had a nightmare of walking along the streets in Paris with my daughter and having an attacker with a gun suddenly appear beside us," she said.
The next day, gone was the usual bustle of people heading toward a nearby farmer's market, which had been closed.
"The aluminum poles that the sellers use to set up their booths had been erected early Friday evening as usual but were now standing empty," she said.
But people slowly started to emerge and Stewart herself went to a nearby friend's house, she said.
"We saw no signs of extra police but again our neighborhood is very quiet with few businesses," she said.
Since then, Stewart said, it's been a blur of normal activities intermixed with quiet conversations among her friends about their fears and what they can do.
"Constant news coverage on TV," she said. "I have seen on the news that those in the 10th and 11th (arrondissements) are determined to return to the cafes and restaurants just to show the terrorists that they are not afraid as shown in the #TousAuBistrot (#EveryoneToTheBar) movement. Our information from the U.S. State Department has been to be vigilant and avoid tourist areas but they are not telling us to leave. I see positive steps being taken by France but even more so the Muslim community in Paris. I hope this will led to a permanent solution."
Stewart, who holds a bachelor's degree in mechanical engineering from the University of Dayton, worked as an automotive design engineer for a Japanese car company and Japanese supplier for 18 years. After the birth of her daughter, she decided to take a break and become a homemaker.
Her husband, Graeme, accepted an offer to work at his company's Paris division for three to five years.
"We thought it would be a nice experience for our family," she said.
Before Nov. 13, Stewart said she witnessed only a few signs of the countermeasures implemented after the Jan. 7 terrorist attack on the magazine Charlie Hebdo.
"We saw French special forces guarding Jewish synagogues and our daughter's school announced that no school trips could be taken due to the government's terrorist threat level," she said. "The French I know spoke about the Greek debt crisis and then the immigration situation but not about the terrorist threat."
She also reflected on other aspects of her life in France. The Parisians have been very kind to her family, especially Vivienne.
"I have noticed how important manners are to the French," she said. "Someone told me this is the birthplace of chivalry and I believe it. They will go out of their way immediately to help an elderly or disabled person. They will also take huge offense at someone's lack of manners and can be very verbally abusive toward the offender. So far I have fortunately avoid this."