Saturday, December 12th, 2015
Wildcats fend off Stammen, 'Skins
By Dave Stilwell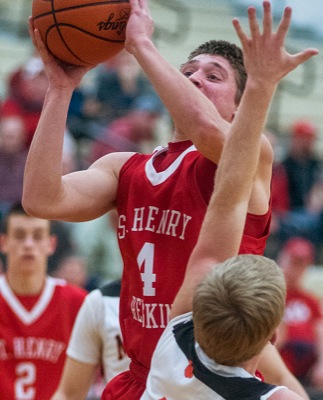 MINSTER - St. Henry's Mitchel Stammen poured in 20 fourth-quarter points, but it wasn't enough to overtake the homestanding Minster Wildcats, who opened their season with a 60-52 Midwest Athletic Conference victory Friday night at Wildcat Gymnasium.
Minster carried a 12-point lead into the fourth quarter and hit 12-of-20 free throws in the final five minutes of the game, never allowing the Redskins to get closer than six points.
"I just like the mental toughness we had for most of the evening," Minster coach Mike Lee said. "We had some breakdowns here and there late in the game, but I like the way we came together. It got a little iffy, but we weathered the storm."
Stammen finished with 33 of St. Henry's 52 points and shot 28 of the team's 55 field goal attempts.
"We don't have enough balance on offense right now," Redskins coach Eric Rosenbeck said. "There's not enough ball movement, not enough open shots. We're taking too many challenged shots and that's going to be on the coaching staff to help our guys understand the difference between an okay shot, a good shot and a great shot."
Minster started the game 3-for-3 from behind the three-point line to jump out to an 11-4 lead. However, the Wildcats went the last four minutes of the first quarter without scoring as St. Henry knotted the score at 11-11 after eight minutes.
The Wildcats responded with the first eight points of the second quarter and built a 25-18 halftime lead.
"We were real pleased at halftime defensively," Lee said  "I thought we closed out decently on their shooters and rebounded fairly well, and I was pleased with the way the second half started."
Minster was red hot to start the third quarter with three-point shots from Jacob Stechschulte and Josh Nixon to build a 33-20 lead.
Although they spent much of the second half at the foul line, the Wildcats were a very impressive 11-of-14 from the floor in the second half. For the game, the Minster shot 60 percent from the floor (20-of-33) and just 55 percent from the foul line (15-of-27).
Stammen ended up scoring St. Henry's final 20 points of the game.
"He's an outstanding basketball player," Lee said of the St. Henry senior. "I kept looking at the clock and it seemed like that last minute and a half took about 25 (minutes). Once Stammen started hitting, we needed to do a better job on him, but give credit where credit is due. He certainly owned us in the fourth quarter."
Nixon led a balanced attack for Minster with 15 points. Stechschulte and Aaron Ernst added 10 points each and Bryce Schmiesing chipped in with nine.
The Wildcats (1-0, 1-0 MAC), who got a late start due to an extended football season, are back in action tonight at Wapakoneta.
St. Henry falls to 3-2 overall and 0-1 in the MAC. Rosenbeck said his team has a few things to work on before they host New Knoxville next Friday.
"The fight of the team is good, and if we keep the fight up we'll be okay," Rosenbeck said. "But we have so many fundamental things we need to work on both offensively and defensively. ... Knoxville is going to be a load Friday night and we'll be in the exact same kind of battle we were in tonight."