Saturday, December 26th, 2015
Solid economy leads to record sales taxes
By Daily Standard Staff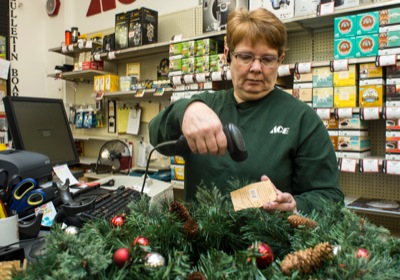 By JARED MAUCH and SHELLEY GRIESHOP
newsdept@dailystandard.com

CELINA - Abundant consumer spending, new and expanded businesses and low unemployment this year helped break sales tax records in the Grand Lake area, officials said.
Mercer County's 1 percent sales tax for the first time ever collected more than $5 million throughout 2015. The amount is 7.9 percent or $369,154 more than that collected in 2014 and marks the fifth consecutive year of record-breaking tax collections.
Auglaize County's 1 percent sales tax this year generated nearly $5.8 million, up about 4 percent or $233,000 from last year. This is the sixth consecutive year the county shattered its record.
Monthly sales tax figures reflect spending in the counties about two months earlier.
The year-end figures are good news to Mercer County Community Development Director Jared Ebbing.
"We're all (county, city, villages) trying to make our region a 'destination' with multiple options right here in the area," he said. "As we all promote and add unique shopping options for our residents, more and more people will view this area as a place to get everything they need rather than making a trip to Fort Wayne for the same reason."
Auglaize County Commissioner Doug Spencer pointed out the increase in the number of retail establishments also brings people from other counties into the area.
The 1 percent sales tax revenue is used by both counties to boost the general fund, support its agencies, capital improvement projects and other operating expenses.
Mercer County Auditor Randy Grapner said the area's low jobless rate continues to help the economy.
"Our unemployment rate remains at one of the lowest in the state," he said. "It's an indicator of where we're going."
The county in November - the most recent month's data available - posted 3.1 percent unemployment, lower than the statewide rate of 4.5 percent. Auglaize County's jobless rate was 3.5 percent in November.
Sales tax figures in both counties "bottomed out" in 2009 at the start of the Great Recession but have blossomed since, officials said.
"We've just continued to increase our confidence in the local and state economy," Grapner said.
He and Ebbing agreed that new businesses and expansions by existing ones also have created a positive economic environment. They cited the new Marshalls store in Celina and several large business expansions by Ferguson Enterprise, Maria Stein Grain and others.
"Of course, momentum brings with it more momentum still. Having some of the recent additions come to Mercer County has led to others opening up shop here thinking they will be successful, too," Ebbing said. "I think more and more people are feeling that 'hometown community pride' and are aware of all that this area truly has to offer."
Grapner said he initially was concerned about Ohio's first-ever, three-day, back-to-school tax-free shopping event in early August, fearing its effects on sales tax revenue. However, Mercer County posted a 5.5 percent gain that month, compared with a year ago.
"The sales tax holiday didn't do anything," Grapner said. "I think the items allowed weren't large enough to bring down our totals overall. If the state does it again, I don't have a problem."
Mercer County Commissioner Jerry Laffin said the increase in sales tax dollars again this year likely will influence spending in 2016, but none of the projects under consideration will be finalized until appropriations are complete in January.
"We have a pretty good idea where we want to go," commissioner Rick Muhlenkamp said, but added it's too early to discuss details.
Mercer County also collects an additional a 0.5 percent sales tax - approved by voters in November 2007 - used to pay down the debt and maintain the adult detention facility, which opened west of Celina in 2010. This year that tax generated about $2.5 million, up from $2.3 million in 2014.
Auglaize County also has a 0.5 percent permissive sales tax that was renewed for another 10 years by voters in November. It generated about $2.8 million this year, up from about $2.7 million in 2014.
The permissive tax was established in 1996 to help raise funds for the construction of the Auglaize County jail; it was renewed to support the general fund in 2006. It currently supports the county's general fund, the sheriff's office, judicial system expenses, the county board of education, auditor and veterans services.
Both counties have a combined state and county sales tax rate of 7.25 percent.