Thursday, January 7th, 2016
Wenning in playoffs after whirlwind year
By Gary R. Rasberry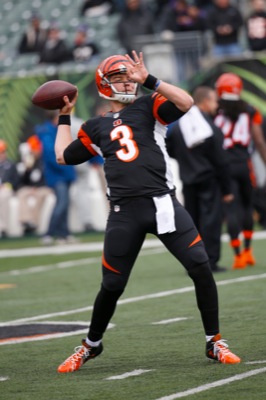 The preparation for a playoff game is something that Keith Wenning was used to during his days at Coldwater.
Now, the Cincinnati Bengals quarterback is getting ready for his first taste of the NFL postseason as the Bengals host Pittsburgh on Saturday night in an AFC Wild Card game.
"It's a little more intense now than it was back then," Wenning said of preparing for an NFL postseason game.
"It's the Steelers. There's not much more that can be said than that. Everybody has the tunnel-vision and their minds set every day in the meeting room and on the field. ... We're excited and as a team we're ready to go."
Wenning signed with the Bengals in the offseason after spending a season on the practice squad of Baltimore, which drafted Wenning in the sixth round of the 2014 NFL Draft,
For more of the season, Wenning was on the Bengals' practice squad, working with active quarterbacks Andy Dalton and AJ McCarron and helping the team prepare for opponents in practice.
The season changed when Dalton was hurt in Week 14 against the Steelers in an AFC North game. With McCarron stepping in to start, Wenning was signed to the active roster to serve as the backup.
"It definitely was unfortunate for (Dalton) and our team, but on the other hand, you have to have the 'next man up' attitude. That's how (McCarron) has handled it," Wenning said. "AJ stepping up and me being promoted was definitely exciting. A blessing and great feeling for me."
Wenning has bonded with McCarron and Dalton this season.
"We're up there at the stadium every day at 6 a.m. First ones in there," Wenning said of him and McCarron. "Studying, working the game plans, staying late every night. It's how our friendship is and our professionalism in how we handle the playbook and week-to-week stuff.
"(Dalton) has been great. He's the leader of the team. He's helped me adapt (going) back to the summer with any question I had with the offense, defensive looks and tapes. ... AJ, Andy and myself are close. We're together watching film and talk. (The) quarterback room has to be one of the cooler quarterback rooms in the league because we're so similar to each other."
Wenning also praises offensive coordinator Hue Jackson and quarterbacks coach Ken Zampese for helping get him prepared in case he's needed.
"They've been great," Wenning said. "Coming in (and) not having a clue about the (Bengals') offense, they helped me learn. Any questions I had, they were always there to help."
For his first two games on the active roster, Wenning was on the road for a win at San Francisco and an overtime loss at Denver. Finally last Sunday, Wenning got to suit up at Paul Brown Stadium in the regular season on a day where the Bengals honored the Coldwater football team for winning its fourth straight state football title.
"Throughout pregame warmups, a lot of people were yelling," Wenning said. "I knew the Coldwater team was getting honored. That seemed about perfect. It was cool for them to be there and me being there dressed (to play) and on the field. I had a lot of family and friends there as well. Overall, a good day."