Monday, January 18th, 2016
Area swim teams tune up before postseason
By Colin Foster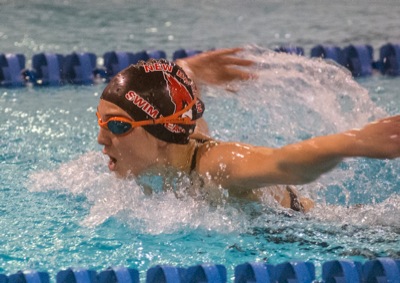 Compiled by Colin Foster

CELINA - Saturday's Celina/Wapakoneta Lions Invitational was a great chance for area teams to test the waters to see how they stacked up against one another heading into league and postseason competition.
The event featured about 20 teams from around the area.
Jay County totaled 282 points to win the team title in the girls and Shawnee was second. Minster was sixth with 183 1/2 points, Fort Recovery was seventh with 180, Celina eighth (148), Coldwater ninth (120), New Bremen 10th (124), St. Marys (62) 13th and St. Henry 15th (19).
The Wapakoneta boys won with 358 points, Shawnee was second with 332. Celina took fourth with 218, Minster sixth (155), Coldwater tied for 10th (63), New Bremen 12th (57), St. Marys 14th (34) and Marion Local 15th (14).
"We had some really good competition with Jay County coming over this year. That was something new," Celina coach Matt May said. "Bellefontaine looked good this year. Their girls are scoring a lot of points. Shawnee looks awesome again. ... It's kind of a nice meet heading into your championship season. You figure out who needs to be where and what your final lineups are going to look like."
Boys
Celina's boys had the highest finish of the day among area teams, paced by several strong relay and individual performances.
Celina's 200-yard freestyle relay team of Grant Guggenbiller, Wesley Rudebusch, Austin Haines and Mason Baker took second with a time of 1:35.98. The Bulldogs' 200 medley relay team of Baker, Garrett Weininger, Ian Darras and Ruedebusch placed third with a 1:47.05, two spots ahead of Minster's team of Aaron Kitzmiller, Max Pelletier, Pierce McGowan and Dane Dahlinghaus. Weininger, Ruedebusch, Guggenbiller and Baker also earned second in the 400 freestyle relay with a 3:35.04.  
Ruedebusch earned runner-up honors in the 100 breast with a time of 1:06.62. Darras was a few spots behind in fifth with a 1:07.28.
Coldwater's Caleb Keck swam strong, placing second out of 88 competitors in the 50 free. Keck's time of 23.77 seconds was only bettered by Shawnee's Chris Soules, who finished in 23.17.
Minster's McGowan took third in the 100 free in 53.21 seconds. New Bremen had two swimmers earn top-10 finishes in the event in Lucas Heitkamp and Samuel Rutschilling, who placed seventh and 10th respectively.
Girls
There were a lot of strong individual performances by local girls, some of whom placed high in multiple events.
Fort Recovery's Cori Stone had a second-place finish in the 200-yard freestyle in a time of 2:08.11. Stone was also fourth in the 100 fly with a 1:05.87.
St. Marys' Sierra Braun placed fourth in the individual medley in 2:26.36 and fifth in the 100 fly with a 1:05.92.
Minster's Julia Slonkosky placed fourth in the 100 freestyle with a 58.56 and sixth in the 100 fly in 1:08.04. Teammate Claire Borgerding earned herself a runner-up finish in the 500 freestyle in 6:05.04.
New Bremen's Devon Heitkamp placed seventh in the 100 free, Coldwater's Mara Tobe eighth and Fort Recovery's Alexis Bubp ninth. Add in Slonkosky's top-five finish, and  four local swimmers placed in the top 10 out of 117 swimmers in the event.
Bubp also took fourth in the 500 free with a 6:07.19 and teammate Sophie Timmerman was fifth with a 6:11.81.
St. Henry's Julia Beyke took sixth in the 50-yard free with a 27.31, an event that featured 130 swimmers.
Celina's Amanda Sletcher placed third in the 100 backstroke with a 1:06.22. Three other local swimmers were in the top 10 of the event, including Coldwater's Sue Nunes (fourth) and Mara Tobe (sixth) and Celina's Cami Dzendzel (seventh).
Celina's Paige Duncan took fourth in the 100 breaststroke with a 1:15.62. Fort Recovery's Sophie Timmerman was a spot back in fifth with a 1:16.06.
Celina's 200-yard medley relay team (Amanda Sletcher, Paige Duncan, Sara Wenning and Cami Dzendzel) placed fourth in a time of 2:02.86.
The Coldwater girls' 200 freestyle relay team of Tobe, Nunes, Mariah Bruns and Courtney Bettinger placed fourth with a 1:48.35. New Bremen's 200 free relay quartet of Devon Heitkamp, Rachel Kremer, Julia Niekamp and Makenna Brackman was a spot back in fifth with a 1:49.96.
Minster's 400 freestyle relay team of Kaitlynn Albers, Pilar Slonkosky, Borgerding and Julia Slonkosky finished third in 4:00.55. Celina's team of Slechter, Black, Paige Sutter and Dzendzel placed fifth in 4:06.24.