Monday, February 15th, 2016
Thunderbirds too much for Bulldogs
By Dave Stilwell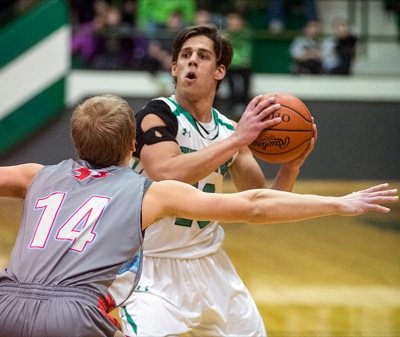 CELINA - Chances are no one left the Celina Fieldhouse Saturday night thinking Lima Central Catholic was overrated.
Defending Division III State Champs, and currently ranked No. 1, the 19-1 Thunderbirds were impressive in dismantling Celina 77-46.
Despite an eight-day layoff since its last game, a 62-44 win over previously unbeaten and Division IV top-ranked Lincolnview, LCC started strong and put the Bulldogs on their heels early.
The T-Birds hit their first four shots, raced out to an 18-7 first-quarter lead and then outscored Celina 23-11 in the second quarter to take a commanding 41-18 advantage at the intermission.
"It was huge to take control of this game early," LCC coach Frank Kill said. "For not having played in eight days, it was nice to see us come out and hit some shots. I think that credits our practice skills. We have a high intensity practice and we really get after it.
"We knew coming into tonight's game that Celina was playing some pretty good basketball and that we had to raise the level of competitiveness for the entire 32 minutes," Kill added.
The T-Birds were 8-of-12 behind the three-point line in the first half, and when they weren't bombing treys, they were getting layups from senior Tre Cobbs, who was beating everyone Celina put in front of him.
"It was pick your poison," Celina coach Jay Imwalle said. "We started out in zone and they shot over us. And then we went man and they went around us. That's why they're the No.1 team in the state. When you got guys that can shoot it and guys that are as quick as they are, you've got a pretty nice package."
Not counting a desperation heave at the buzzer, LCC was 12-of-13 from the floor in the third quarter, including two more three-pointers.
Through three quarters the T-Birds were shooting 68 percent from the field, a stat both coaches attributed to LCC's ability to penetrate.
"Our dribble penetration really causes fits for other teams," Kill said. "When you can attack a defense and penetrate to the heart of it, which is the paint, you are going to get some quality shots in terms of layups and wide open looks."
"If you go out and jump on their toes, they are going to go around you. If you stay off of them a step they are going to shoot over you," Imwalle said. "With Tre Cobbs, you can stay off of him three steps, and he's still going to beat you."
Cobbs had 16 points in the first half, hit his first five shots of the second half and finished with 27 points.
"We rely on him," Kill said of his point guard, who came into the game averaging over 19 points a contest. "He's a senior and he wants to get back to the promised land. I told him, where he goes, we go."
After giving up 50 points in the second and third quarters, the Bulldogs were able to stiffen for the final eight minutes.
"The thing I was happy with at the end was that our guys continued to play hard," Imwalle said. "I don't care if you're getting beat by 50, doggone it, you better play hard, and the group we had out on the floor in the fourth quarter played hard."
Ryan Harter came off the bench to pace Celina with all 13 of his points coming in the second half. Besides Cobbs, three other T-Bird starters scored in double figures, including Josh Dixon with 13, Dantez Walton 11, and Nick Taflinger 10.
With the loss, Celina slips to 10-11 overall, but the Bulldogs have faced some impressive competition, including a loss to Lima Senior the previous Saturday. Ranked second in the state in Division I, and undefeated, Lima Senior gave LCC its only loss this season.
"If you're going to do anything in the tournament, you are going to have to play teams the caliber of LCC and Lima Senior," Imwalle said. "And it's a great experience for our kids playing these top teams."
The Bulldogs wrap up their regular season on the road next Friday with a Western Buckeye League contest at Kenton.