Monday, April 4th, 2016
Roughriders rally past Wildcats
By Gary R. Rasberry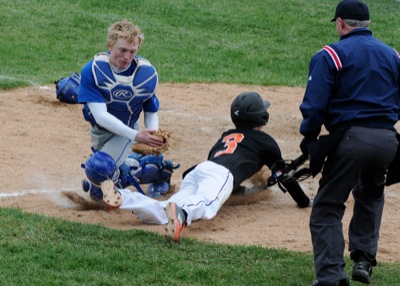 MINSTER - St. Marys, having used two rallies to tie Minster earlier in the game, were down 9-8 in the bottom of the eighth and was in need of another comeback.
As chance would have it, the third time was the charm.
The Roughriders scored twice, with the winning run from Derek Roop as he scampered home on a Derek Jay squeeze bunt, to beat the Wildcats 10-9 on a blustery and snowy Saturday afternoon. Due to field conditions at K.C. Geiger Park, the game was moved to the Wildcats' diamond on the corner of Hanover and Melcher Streets and was cut to a single game rather than a twin bill.
The teams were mirrored images of each other. At times, the pitchers made the hitters look silly - with a combined 25 strikeouts between five pitcher. Other times, the hitters came up with clutch hits to drive in runs.
"I thought the guys stuck in there. It was a tough day to play," St. Marys coach Jeff Dieringer said. "But you know, they (Minster) were playing in it and we were playing in it. ... Our pitchers battled through and our bats stuck with it."
"First of all, I think those are two pretty good teams," Minster coach Mike Wiss said of St. Marys (3-0) and Minster (3-1). "I thought we pitched well and they pitched well."
St. Marys starter Derek Jay struck out nine Wildcats in four innings of work, but Minster had his number in the second inning with five runs - all unearned - coming across the plate. Peter Falk doubled in a pair of runs.
Josh Nixon also had his ups and downs, striking out seven in four innings of work but allowing three runs in the third and then two in the fourth - both runners reached base having been hit by hit by Nixon - to tie the game.
"The weather didn't help any, but they answered three in the third and two in the fourth," Wiss said.
Minster looked ready to go ahead for good with three runs off reliever Dustin Howell in the sixth. Jared Huelsman drove in Alex Lehmkuhl with a single and came home on Bryce Schmiesing's double. Schmiesing later came home on Peter Falk's single to make it 8-5.
St. Marys quickly tied the game again. Michael Eberle led off with a single off Falk, who came on in relief for Nixon in the fifth. Austin Wilker dropped down a sacrifice bunt, but the ball was bobbled and Wilker reached first safely. After Falk got an out, Drew Jacobs drove in two runs with a double and later scored on an RBI single by Jay to tie the game.
Minster went up a run in the top of the eighth when Aaron Ernst doubled and came home on Bryce Schmiesing's single.
Wiss called on Isaac Dorsten to try and nail down the win. After getting a pop out to start the sevneth, Dorsten walked Nathan Wilker. Roop followed with a deep fly to center to score Wilker for the tying run, with Roop going to third for a stand-up triple. With Jay at the plate, Dieringer decided to go for the win and called for the squeeze bunt. Jay laid down a textbook bunt, reaching first safely as Roop easily scored to end the game.
"I thought 'With one out, why not try it here?' Worst case is we go another inning," Dieringer said. "Derek handles the bat really well and got the sign. I'm happy how they executed it."
"I'm pleased with how we battled. Minster's a tough team."
"Baseball is a humbling sport some days," Wiss said. "Some days it's your day. ... Some younger kids showed me some things. We made a few mistakes at key points, but we were battling back. It's early and we're battling back. I hope we're battling back in the middle of May."
Jay and Nathan Wilker each had three hits each for St. Marys. Jacobs had two hits and drove in three runs.
Falk had two hits and three RBIs for Minster.
Both teams face Wapakoneta in their next contests. Minster hosts the Redskins today and St. Marys opens Western Buckeye League play on Tuesday at K.C. Geiger Park against their Auglaize County neighbor.