Wednesday, April 6th, 2016
Cavaliers get past Indians
By Gary R. Rasberry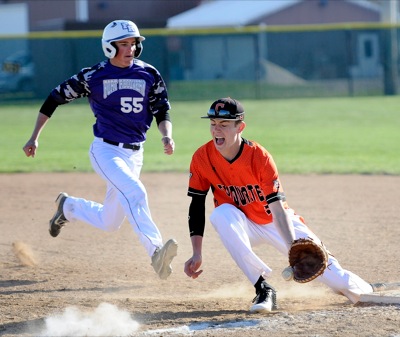 FORT RECOVERY - With the weather playing tricks on the baseball schedule, MAC rivals Fort Recovery and Coldwater scheduled a non-conference game on Tuesday to get in some innings.
A four-run first inning proved to be the margin of victory for the Cavaliers as they defeated the Indians 7-3 at Fort Recovery. The win is the third in a row for Coldwater (3-1). The Indians drop their second straight game to go to 5-3.
Indians' southpaw Hunter Boughman struggled in the first inning. After allowing a single to Kyle McKibben, Boughman walked Aaron Harlamert and Malave Bettinger to load the bases for Kraig Schoenherr, who worked the count full before drawing his own walk to score McKibben. Jack Hemmelgarn followed with an RBI single to score Harlamert. A groundout by Dylan Thobe scored Bettinger and later Hemmelgarn scored stealing third and coming home on a throwing error.
"For us, the thing is being consistent," Coldwater coach Brian Harlamert said. "With the weather, we've played one day (and) sat for a couple. We got some runs early."
"This is (Boughman's) second varsity start. I think he was nervous to start," Fort Recovery coach Jerry Kaup said. "He's been throwing well. He got out to a bad start, was shaky, but then pitched well until he came to the end of his rope."
After the first inning, Boughman settled down and did not allow a run until the fourth on McKibben's RBI single to score Brad Giere. Boughman departed after 3 2/3 innings in favor of Reese Rogers, who allowed two runs the rest of the way.
The Indians were able to get to within one run against Cavalier starting pitcher Bettinger. In the second inning, Chase Bruns' groundout scored Boughman and Will Homan drove in brother Ross with a single. In the third, Boughman singled in Jackson Hobbs, who reached base by getting hit by a pitch.
"We needed to push across another run. They got it to 5-3 and we had a chance to make it 5-4," Kaup said. "We couldn't get that run across."
Bettinger went the first three innings and turned the ball over to Harlamert for a scoreless fourth inning. Hemmelgarn allowed just one baserunner over the final three innings to earn the old-school save.
"All three threw well. All are seniors," coach Harlamert said. "We're trying to get Mal some extensive innings. That's Aaron's first time out in a real game. He's still battling some issues with the arm. Jack has thrown the last couple games and has thrown well."
Hemmelgarn also shined at the plate, going 3-for-4 with three RBIs and two doubles. McKibben and Giere each had two-hit games.
Weather permitting, Coldwater returns to action on Thursday at Van Wert in a rematch from last spring's district semifinal. Fort Recovery travels to Houston on Friday for a non-league game.