Monday, April 18th, 2016
Wildcats run away with team titles
Minster Memorial Track Meet
By Colin Foster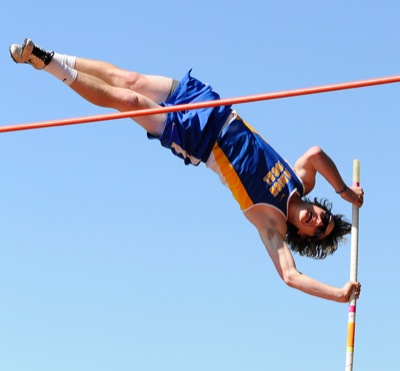 MINSTER - Larry Topp's team was on top at the Minster Memorial Track and Field Meet. So was Jessie Magoto's.
Same story, different year.
The Minster boys and girls swept their annual home meet on Saturday in landslide fashion.
The boys, led by Jack Poeppelman's big day and strong performances by the relay groups, won the team title with a score of 140.
"This is one that means a lot to us, obviously," Topp said. "A lot of years people who have worked here, parents who have worked here, so this is one that we want to do our best at. We put our best people in the best positions, and they came through today. Everybody either did what they were supposed to or did better than what they were supposed to do, and that's a good day."
Versailles took second in the boys with 74 1/4 and Bryan third (60). St. Henry took eighth, New Bremen 11th and Marion Local 14th.
The tradition-rich, state-title hopeful Minster girls cruised to a team title with a total of 162 points.
"Overall we had some nice performances in the middle distance areas, and it's just good to see some really (good) competition early on to see what we need to do," Magoto said.
Russia placed second with 80 and Versailles third with 78. The 16-strong Marion Local girls' team placed fourth with 76 1/2 points.
"We have some very talented athletes out there," Marion Local coach Matt Schmackers said. "They're working hard. They're multi-talented. ... In the field events, we're covering about everything. We didn't have any pole vaulters today, but in everything else (we're) putting girls in, and they're doing a great job for us."
Also in the girls standings, New Bremen placed sixth with 59 and St. Henry was eighth with 32.
GIRLS
Two Minster freshmen, Kaitlyn Albers and Madeline Magoto, were big players in the scoring. Albers won the 1,600-meter run with a time of 5:28.40 and Magoto won the 800 in a time of 2:20.69. Junior Jordyn Heitbrink won the high jump with a 5-2.
In the 3,200, Minster's Kaci Bornhorst and Morgan Pohl placed second and third. Teammates Cassie Francis placed second in the 400 and Maggie Meiring second in the 300 hurdles. Savanah Luthman won the shot put with a 38-71/2 and New Bremen's Maddy Moeller took second with a 36-71/2. Maggie Meiring took second in the 300 hurdles and teammate Mya Dirksen was third. Julia Slonkosky placed third in the 1,600.
The Wildcat girls 4x800 team won in a time of 9:42.52 -- nearly 20 seconds faster than second place Russia.
The Versailles girls 4x200 relay team earned a meet record with a 1:46.94. Marion Local took second and Minster placed third.
The Wildcat girls' group won the 4x400 relay with a 4:09. Minster placed runner-up in the 4x100 relay behind Versailles.
New Bremen's Paige Kuck placed second in the discus, Celeste Kuck placed second in the pole vault with a 10-6 and Makenna Brackman placed third in the 800.
Marion freshman Aubrey Thobe placed second in the long jump, third in the 100 hurdles. Teammate Jesse Kramer was third in the high jump. Kylie Albers placed third in the 200.
BOYS
Poeppelman won the 400 with a time of 51.39. Ben Butler placed first in the 800 with a time of 2:06.05 and earned second in the 1,600 with a time of 4:42.08.
Minster's Jared Thobe and Jacob Dues went 1-2 in the long jump. Thobe's top leap was 20-8 3/4 and Dues ended with a 19-10 1/4. Dues also took third in the 110 hurdles. Minster's Evan Huelsman was third in the 300 hurdles.
Minster's 4x400 team won in a time of 3:34.61. The Minster boys 4x800 group took second behind Fort Loramie (8:24) with a time of 8:39.14. The Wildcats also took second in the 4x200 with a time of 1:34.19.
Marion Local's state-qualifier Colin Homan won the pole vault with a 13-0. St. Henry's Jesse Niekamp won the high jump with a 6-0 and Minster's Josh Otting was second at 5-10. New Bremen's Logan Dicke placed third in the discus.