Wednesday, April 20th, 2016
Panthers edge Indians
By Colin Foster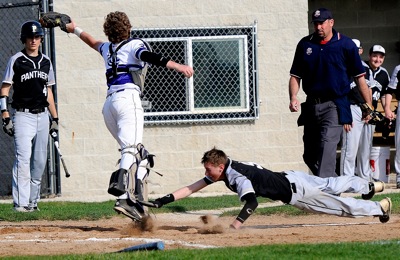 ROCKFORD - The Parkway Panthers went small-ball after Fort Recovery tied the game at 6-all in the sixth.
The result paid huge dividends.
The Panthers, with the help of two bunts, scored three runs in the bottom of the sixth inning and then held on for a 9-7 Midwest Athletic Conference victory over the Indians on Tuesday at Don Black Field.
"It's a quality win," Parkway coach Luke Clouse said. "Fort Recovery's obviously a good team coming off a state run last year. They maybe lost a couple kids, but they're a quality team. Coach Kaup's got them going pretty good. They fought back and they battled back to get in the game tonight."
Left-handed pitcher Trace Walls exited after five innings with a 6-3 lead. His replacement, Connor Morton, had a bumpy ride in the sixth. He gave up a leadoff single to Will Homan, walked Kyle Schroer and surrendered a bunt single to Cade Wendel to load the bases for Jackson Hobbs, who hit a two-run single up the middle. Hunter Boughman's sacrifice fly later knotted the game at 6-6.
Fort Recovery's Nick Thwaits, making his first mound appearance of the season, exited after five innings as well. Wendel took over in the bottom of the sixth and issued a lead walk to Bailey Rodriguez. Clayton Agler reached on an error after bunting and then Riley reached on a bunt to set the table for Alec Schoenleben, who put Parkway on top again with a sacrifice fly to plate Rodriguez. Carson Ford drove in a run with a double and then Logan Huff came through with a two-out RBI single to make the score 9-6.
"We got clutch hits when we needed them. We got some guys on. I was able to try to bunt them over (because) Agler and Riley both had the speed to put a little pressure on them," Clouse said.
"It's been a slow go for our boys this year, and I think they're finally starting to get some confidence and starting to believe in themselves," he added.
Parkway needed every last bit of the offense, too, because Fort Recovery, like it had proved all night, wasn't going down without a fight.
Morton forced a 6-3 putout to open the seventh but then walked Ross Homan. Will Homan reached base safely on an error on the next plate appearance. Morton came back to strike out Kyle Schroer for the second out. Morton walked Wendel to load the bases for Hobbs, who picked up his third RBI of the night with a free pass to first.
Ford replaced Morton on the hill to face one of Fort Recovery's most dangerous hitters in Jacob Homan. Homan ripped a shot to left field but the ball landed safely in the glove of left fielder Logan Huff for the final out.
"Some nights you come out and you hit the ball hard and you hit everything right at them. Sometimes the ball doesn't bounce the way you want it to," Fort Recovery coach Jerry Kaup said. "I think tonight came down to they made more plays than we did. They made a couple really nice defensive plays."
Parkway led 5-0 after two innings. Rodriguez doubled in the first and scored on Alec Schoenleben's single. Huff and Shay Pond hit RBI doubles in the second. Pond scored on an error and Rodriguez added the fifth run on a passed ball.
After leaving four runners on in the first two innings, Fort Recovery got on the scoreboard in the third. Hobbs walked, Jacob Homan singled and then moved into scoring position on a double steal. Boughman hit a run-scoring single and then Ben Homan's sacrifice fly scored Jacob Homan to make it 5-2.
In the fourth, Will Homan singled and stole second and third before coming home when the ball got by Ford at third base, allowing Homan to make it 5-3.
In the bottom of the inning, singles by Rodriguez and Agler and a walk to Schoenleben set the table for Ford, who scored a run with a half-swing hit between first and second to make the score 6-3.
The play of the night came in the top of the fifth. Ben Homan and Thwaits strung together consecutive two-out singles. Ross Homan hit a deep shot to right field but Rodriguez leapt and made the catch, preventing at least two runs from scoring.
Rodriguez finished 3-for-3 with three runs scored.
"Three-for-three and that diving catch in the outfield, he was having a day," Clouse said of Rodriguez. "That catch was a game-saver. That's a 2-3 run base knock if it falls. Bailey's been doing a wonderful job for us."
Huff also went 3-for-3 with two RBIs for the Panthers, who improved to 5-5 and 2-1 in the MAC.
Thwaits and Will Homan each had two hits apiece for Fort Recovery. The Indians (10-4, 1-1 MAC) stranded 13 runners on base in the loss.
"The first inning we had opportunities. The second inning we had opportunities, but we left guys on base," Kaup said. "We're not cashing in on those opportunities. We had a couple times where we struck out early. We didn't cash in. When they had an opportunity, they cashed in. That's usually the team that wins the game."
Fort Recovery has another big game on deck Thursday at Versailles. Parkway is back at Don Black Field today for a matchup against South Adams before a Thursday game at Veterans Field in Coldwater.