Thursday, May 12th, 2016
Indians survive battle with Cards
By Colin Foster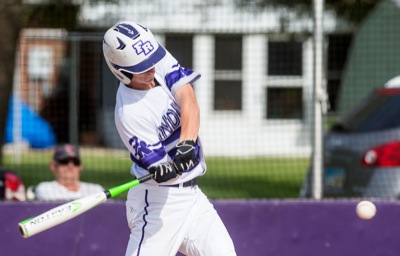 FORT RECOVERY - Jackson Hobbs pitched many gems during Fort Recovery's 2015 postseason run.
The senior kicked off the 2016 tournament trail with another one.
Hobbs, backed by a stellar defensive effort, pitched a complete-game, five-hit shutout, and the Indians manufactured single runs in the first and sixth innings to survive with a 2-0 victory over New Bremen in the Division IV sectional final.
The win sets up a rematch between top-seeded Fort Recovery and third-seeded St. Henry in next Wednesday's district semifinal at Coldwater's Veterans Field. The Redskins advanced with a 4-2 victory over Parkway.
Hobbs was far from overpowering - he struck out four, two of which came in the seventh. He did, however, have one thing working: escapability.
New Bremen had two runners picked off by Hobbs at second base in the game. Hobbs kept runners stranded on first and third in the fourth inning, and then a diving play by shortstop Jacob Homan prevented the Cardinals from tying the game in the sixth.
Trailing 1-0 in the top of the sixth, Greg Parker hit a lead off double and then moved to third on a passed ball. Parker stayed put on Owen Leugers' grounder to short for the first out. Homan then dove to make a stop on a ball hit by Deion Hoehne, looked Parker back at third and threw to first for the out. Parker took off on the throw to first, but first baseman Boughman fired home to get out a sliding Parker to complete the inning-ending 6-3-2 double play.
"If you're going to win baseball games, you have to make plays, especially when you're playing good competition and you're getting into the tournament," Fort Recovery coach Jerry Kaup said. "(Jacob) was given the opportunity. He dove, made the play, did everything he was supposed to. He checked the runner and went to first."
"We had two people up that I would want up in that situation, two seniors," New Bremen coach Chad Wells said. "Really they didn't put bad swings on the ball. They just happened to get great hops. A couple inches here, a couple inches there and it's a tie ballgame. But that's baseball, the good and the bad."
Hobbs' pitching counterpart, Hoehne, was lights out for Bremen, too, giving up five hits and two runs while striking out two.
"He went right at people, challenged people, and we made plays behind him," Wells said.
Nick Thwaits singled in Fort Recovery's opening at-bat and advanced to second on Cade Wendel's bunt. Thwaits went on to steal third and then Hobbs' groundout scored him to put the Indians up 1-0.
"You always want to score first," Kaup said. "Nick had some pretty good swings on the ball tonight. He got us going in the first inning. We would like to score more than just scratch a run occasionally, but we'll take them anyway we can get them. It's big to score first and give your starting pitcher that lead."
Fort Recovery missed a few scoring opportunities along the way, too, but finally pushed another across in the sixth. Hoehne issued a lead walk to Wendel, who later scored on a single by Boughman.
"It's tournament," said Kaup, "and in tournament, it goes to pitching and defense. Both teams brought pitching and defense tonight. Our young man, Jackson, threw well. Their young man threw well. Both teams played pretty good defense."
Darrin Hays had three of the five hits for the 10th-seeded Cardinals, who fell just short of upsetting a team that had run-ruled them a few short weeks earlier.
"I was pleased with the way the kids competed today," Wells said. "It was a good tournament baseball game. I told them they don't have anything to hang their heads about. They came over here and competed. I think they may have competed a little bit more than maybe some people coming into this game thought they would."
Kaup's Indians (18-7) figure to be in for another battle when they meet St. Henry next Wednesday. The Redskins defeated the Indians 3-2 in 11 innings on May 5 at Wally Post Athletic Complex.