Wednesday, May 18th, 2016
Big inning lifts Cardinals
Seven-run sixth puts New Bremen into district title game
By Colin Foster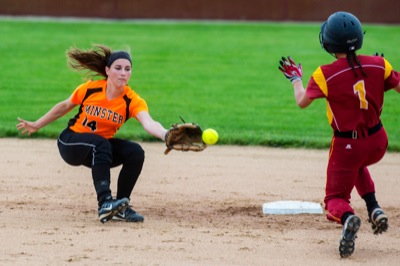 WAPAKONETA - The game was within reach for the Minster softball team after an offensive explosion in the top of the sixth inning.
New Bremen quickly put the game out of the reach when they stepped to the plate in the bottom of the frame.
After Minster had scored three times to pull within a run, New Bremen countered with seven runs in the bottom half en route to an 11-3 victory in the Division IV district semifinal on Tuesday at Wapakoneta High School.
The Cardinals (15-5) await the winner of tonight's other semifinal between Parkway and Marion Local with the district final taking place Friday at 5 p.m.
New Bremen pitcher Sophie Fox recorded three 1-2-3 innings over the first five against Minster. In that span, New Bremen built a 4-0 lead. Alyse Clune drove in the first run with a sacrifice fly in the Cards' opening at-bat. Kaitlyn Ahrns' triple set up a sacrifice fly RBI by Sarah Hall to make it 2-0 in the fourth. The Cardinals had three consecutive hits to start the fifth - a triple by Debbie Paul, an RBI double by Fox and an RBI single by Cassidy Smith - to add two more runs.
Minster entered the sixth with just one hit - a single by Alice Schmiesing in the third. Jessica Berelsman and Danielle Barga launched the frame with consecutive singles. They were bunted into scoring position by Emma Schmiesing to set up Karly Richard's two-run single with two outs. Lindsay Albers scored Richard with a double and then Jenna Nixon followed with a single to left field. Albers, representing the tying run, tried scoring on the play but was thrown out at home plate.
"Fundamentally we made the right choice," New Bremen coach Craig Griesdorn said. "We hit the cut off. (Shortstop) Alyse (Clune) made a solid throw and (catcher) Debbie (Paul) did a great job of blocking the plate. That was huge."
"We hit the ball pretty hard the first five innings but we just hit it right at them," Minster coach Scott Robinson said. "Karly had some hard shots but just right at center. I just told them to keep hitting the ball and as the game goes on, they'll find holes, and they did. We got some things rolling late. We just gave it back to them too quick."
Leadoff hitter Chloe Schwartz opened New Bremen's sixth-inning at-bat by drawing her third walk of the game. She then stole her second base of the game and later made it 5-3 by scoring on a wild pitch. Smith had a two-run double, Jenna Broerman and Madison Wells added RBI singles, and the Cardinals added two more runs on a bases-loaded hit by pitch to Ahrns and a fielder's choice by Clune.
All told, Minster pitching gave up four hits, three walks and two hit batsmen in the fateful sixth.
"They put pressure on us by scoring three runs, but we just had to win the inning and get back to it," Griesdorn said. "We were able to get seven. That was crucial."
Smith went 3-for-4 with three RBIs and a run scored. Fox went 2-for-3 with two doubles, Kaitlyn Ahrns and Madison each went 2-for-3. Sarah Hall contributed two RBIs and Chloe Schwartz had three walks, two runs scored and two stolen bases.
Right fielder Alice Schmiesing had a pair of diving catches and also went 2-for-3 at the dish for Minster, which finishes the campaign at 13-14.
"I like the way they fought back," Robinson said. "We're young. We start five freshmen. One of our best offensive players wasn't in the game. Sometimes it goes your way and sometimes it doesn't. But I liked the way they fought."