Wednesday, June 15th, 2016
Minster's Ernst throws no-hitter
Wildcats cruise to 7-0 victory over Cardinals
By Gary R. Rasberry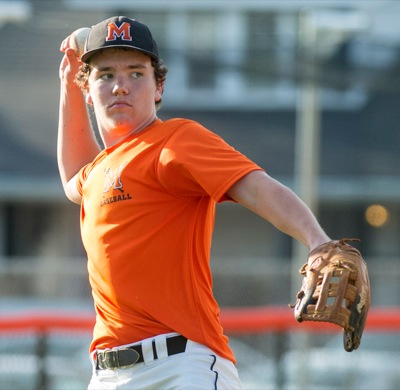 MINSTER - Aaron Ernst admitted after the game he hadn't had his best stuff, which is hard to believe.
The Minster pitcher took a perfect game into the seventh inning and settled for a no-hitter to give the Wildcats their seventh straight win with a 7-0 decision over New Bremen in Auglaize County ACME play at Hanover Street Park.
The Wildcats, who went 6-0 during their annual Tennessee trip, broke open a scoreless game with a run in the fourth, added a run in the fifth and iced the game with a five-run sixth inning to give Ernst all the scoring he needed.
"It's what you want to see from one of your team leaders," Minster coach Andy Schmitmeyer said. "He just pitched a real gem of a game. He did everything you could ask him to do."
Through the first six innings, Ernst went to a three-ball count just once. Of the first 18 outs in the game, 10 came via the strikeout; six were by groundouts with two flyouts.
"To be honest, I don't think I was at my best today," Ernst said. "I wasn't hitting spots like I normally do. (Defense) made plays, which is all I can ask for as a pitcher."
Cardinals starter Caleb Alig was sharp as well, allowing three hits through the first four innings. Minster took the lead in the fourth when Alex Lehmkuhl walked, stole second and third and scored on Nate Schwieterman's one-out single.
Alex Oldiges scored the second Minster run after doubling to start the fifth inning and scoring on Jon Niemeyer's bases-loaded ground out to first.
Alig departed after the fifth for Ryan Bertke, but Minster was able to send 10 batters to the plate in the sixth as Bertke walked three and allowed two hits. Ernst drove in the first run of the sixth with a single. Three batters later, Niemeyer had a bases-loaded RBI single. Lehmkuhl followed with a walk to bring home another run and after John Sailer came on in relief, Ben Stubbs drove in the two final runs.
"We got some timely hitting tonight," Schmitmeyer said. "Bryce Schmiesing had a nice game with a couple of hits. Jon had a nice hit in the sixth."
"I told them we played 4 1/3 innings of great baseball," New Bremen coach Cory Stephens said. "Then we had a little mistake, gave up a run, and things snowballed from there, especially in the sixth."
All that remained was for Ernst to finish off his gem. Grant Selby gave Ernst his 11th strikeout for the first out. Justin Tenkman worked the count full before taking ball four to end the perfect game. Ernst struck out Levi Clem for the second out, but Bertke reached on an error. Alig tried to bring home a run but grounded to Schwieterman, who lobbed the ball to Ernst for the final out.
"He threw really well," Stephens said. "In the seventh, we started making contact, but if you're waiting until the seventh to make contact against a good pitcher, you're going to be behind the eight ball."
Bryce Schmiesing was the only Wildcat with a multi-hit game, going 2-for-3 with a run scored.
Minster (8-3) is off until Thursday when the Wildcats host Wapakoneta. New Bremen (3-2) travels west to play Coldwater tonight.