Friday, June 17th, 2016
Ford fuels Panthers' win
Senior righty hurls complete-game in 8-4 victory over Celina
By Colin Foster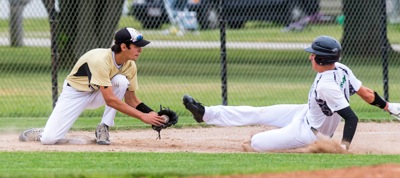 ROCKFORD - Ford Motor Company's slogan is "Built Ford tough."
That could be the new slogan of Parkway's Carson Ford after Thursday's pitching effort against Celina.
The senior right-hander threw a complete-game in just 92 pitches to lead the Panthers to an 8-4 victory over the Bulldogs in Mercer County ACME baseball action at Don Black Field.
The Panthers provided Ford plenty of run support early by scoring four runs off Celina starter Jake Smalley in the first and then adding four more runs in the fourth.
After a troublesome sixth, Ford shut down Celina 1-2-3 in the seventh to improve the Panthers to 5-4 on the season.
"I really like the direction we're going," Parkway coach Bryan Schoenleben said. "Even with the couple losses we have, we've been headed in the right direction and we came with the right attitude tonight. I know Jake Smalley, and he's a tough kid. We went right after him and that was big."
Control issues hurt Smalley in the first. Three walks loaded the bases, and a fourth one to Trace Walls made it a 1-0 game. Shay Pond drove in a run with a single, and Justin Barna's grounder to short was booted, allowing two more runs to score.
Smalley allowed just two hits over the first three innings, but the Parkway bats showed up in the fourth.
Alec Schoenleben began the scoring in the frame with an RBI single up the middle. Celina center fielder Seth Lonsway prevented one run from scoring by gunning down Reid Etzcorn at the plate. But Logan Huff stepped to the plate next and belted a two-run home run over the left field fence, the first of his career, to put Parkway in front 7-0.
"I toyed around with the lineup tonight, changed things around," coach Schoenleben said. "I moved Huff just a little bit for that reason. I thought maybe I could get a little something out of him. I really wasn't expecting that ... but he's good at seeing pitches. I thought if he had a couple in front of him or if he got a chance at seeing a good pitch, I knew he could hit the ball hard, and obviously he got that done tonight."
Ford took a three-hit shutout into the sixth, but the Bulldogs erupted for four runs on six hits in the frame. Shawn Rose and Bransen Miller hit back-to-back singles to open the inning. Gabe Perry followed with an RBI double, Lonsway followed him with a two-run triple and Nate Kirk later scored Lonsway with a suicide squeeze bunt. The Bulldogs had two runners on with one out but Ethan Piper grounded into a 4-6-3 doubleplay.
"We got in some trouble in the first inning, got down four runs," Celina coach Scott Montgomery said. "We did get some guys on but we didn't move them around. We didn't score until the sixth inning and that's a little too late. We need to make sure when we come out, we're focused and ready to hit."
Reid Etzcorn scored Parkway's final run in the sixth. He legged out a bunt single to open the inning, stole second and scored on Alec Schoenleben's second RBI single of the game.
Ford, who is projected to be one of Parkway's top starters next season, tallied six strikeouts, walked none and gave up nine hits.
"Carson Ford did a phenomenal job on the mound," coach Schoenleben said. "When you can hand him the ball and he can go seven innings and still be as strong as he was in the last inning as he was in the first inning, that's huge."
Lonsway and Rose were the two batters to have Ford's number at the plate. Lonsway went 3-for-3 with a double and a triple. Rose went 2-for-4. The Bulldogs, who host St. Marys in a doubleheader tonight, fell to 8-3.
Alec Schoenleben went 3-for-4 and Jack Wehe went 2-for-3 for the Panthers, who evened up the season series with Celina at 1-1. Parkway travels to face Coldwater on Monday.