Saturday, June 18th, 2016
Sisters make blessed return to help mark Fort's 225th
By William Kincaid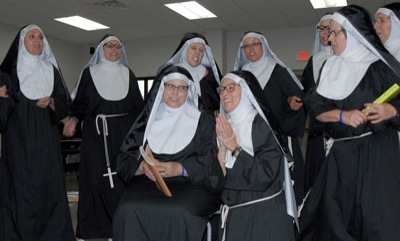 FORT RECOVERY - The highly acclaimed Sisters of the DIS Order are coming out of the retirement nunnery for a special reunion show to celebrate the village's 225th anniversary celebration and annual Jubilee festival.
The one-off performance of these dancing, singing and wise-cracking women is set for 5 p.m. Sunday at the Ambassador Park track. They'll also take part in the parade at 2 p.m.
People can expect a "little holiness, a lot of humor, beautiful harmony and choreography with women dressed as nuns," according to the Sisters.
Among the revamped troupe are 10 of the original 12 Sisters.
The Sisters for 15 years jested their way into the hearts of thousands at festivals, Knights of Columbus conventions and other events in Ohio, Michigan and Kentucky before giving up the limelight to focus on their grandchildren and other interests. In the process, they raised more than $25,000 to help local people in need, oftentimes anonymously in the form of grocery and gas cards and heating assistance.
At the height of their popularity, the Sisters put on as many as 20 shows a year.
Group co-founders Cathy Koesters and Patti Stahl said the 12 Sisters agreed in 2010 that it was time to stop.
"The longer we went, it seemed as though it got harder to find the time to commit to the show because people would want us to commit six months out," "Mother Superior" Koesters told the newspaper. "When you have teenagers you don't know what you're going to be doing six months out."
"We wanted it be fun - fun for us and fun for the crowd," Stahl added. "We didn't want it to be a job."
But at the prodding of a 225th anniversary committee member, the gals overwhelmingly agreed it was time to dust off their homemade habits and reconvene.
The Sisters began talking in January and started weekly rehearsals in March. They found that the magic - or divine inspiration - is as strong as ever, Stahl and Koesters told the newspaper while rehearsing earlier this week.
But some of the dance moves are painful to pull off this time around, they said.
"We're older," Stahl said. "The average age of the nuns is in their 50s,"
"Now we notice that some of the things that we did before hurt," Koesters pointed out.
They've been working on new comedic material to crack up the crowd. The Sisters are known for playfully poking fun at locals as well as improvising dialogue.
"Patti and I know one another well enough that if she says something cute, I know what to say back and vice-versa," Koesters said, noting they have known each other all their lives and became good friends in the 1980s while singing at Mary Help of Christians Catholic Church.
The Sisters' material on Sunday will reflect a world much changed since the Sisters hung up their habits in 2010.
"Six years is a long time, so things change" she said.
The nucleus of the Sisters formed in 1995 when Jim Zehringer encouraged Stahl and Koesters to put together an act for the summer talent show at Van Trees Park, the women said.
" 'Sister Act,' the movie, had just come out not too long before," Stahl said. "So we kind of put our heads together and thought, 'why don't we dress up like nuns and do some 'Sister Act' music?"
They sang a medley of "Hail Holy Queen," "My God" and "Shout."
"We had so much fun that night that we thought, 'maybe we can do this to raise some money for people in need and get together,' " Stahl said.
"We really did kind of get a touch of show business," Stahl added. "We all had little children, and we all were so busy with our lives ... this was a great out."
Koesters agreed.
"It was kind of a girls' night out," she said.
So the Sisters took their time crafting homemade habits and props, selecting songs and choreographing before taking the show on the road in 1997.
"We enjoy company," Koesters said. "We share the same background, values. Basic Christian values. Most of us are Catholics. Not all of us are. And we shared the same love of music and God and family."
The shows were enjoyed by Catholics and non-Catholics alike, they said. Yet Koesters noted that "Catholics get our humor just a little more because we pick it ourselves."
"There's always priests and nuns present and they always get a big chuckle out of it," she pointed out.
One year a priest at Mary Help of Christians opened the show for them, they said.
"I'll tell you who loves us just as much is those Protestants. They love it," Stahl said. "We (sang at) a lot of Churches of God and they have welcomed us with open arms. It's just been so fun singing to them, too."
"Of course, to kids these days we look like penguins because they don't know what a nun looks like," Stahl said. "They don't know why we're dressed like that. But a lot of older people, that's (who really likes us.)"
As popular as the act became, the members never really considered making it onto a bigger stage.
"It would have been a dream, but that would have uprooted all our lives," Stahl said.
Stahl and Koesters, however, insist Sunday's performance will be a one-night-only affair, not a relaunching of the group. Calls from people looking to book the Sisters started pouring in once notice of the group's performance was printed in 225th anniversary brochures.
"And we're saying 'no,' " Koesters said. "This is unique. This is a gift to us, actually."
The revamped Sisters of DIS Order consists of Stahl, Koesters, Jodi Staugler, Sandy Knoth, Mary Niekamp, Barb Lennartz, Becky Rammel, Stephanie Klingshirn, Jane Kleinhenz, Peggy Huff and Jane Reinhart.