Thursday, June 30th, 2016
Mariners win wild one in St. Henry
Grand Lake rallies in ninth inning with 7 runs, rolls on to win 15-14 in 14 innings
By Colin Foster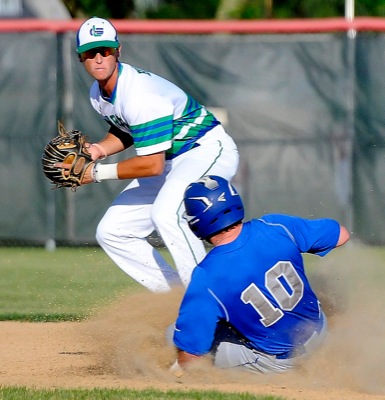 ST. HENRY - Michael Brown watched from first base as Billy Sager launched a three-run homer to cap a seven-run ninth inning rally that sent Grand Lake's game with Cincinnati to extras.
"Dude's freaking clutch," Brown said. "He's done that for us before. When he goes to the plate in crunch time, you know something good is going to happen."
Later in the night, Brown showed the ability to be clutch as well.
The outfielder from Pflugerville, Texas, singled home Derek Parola for the winning run to finish off a 14th-inning rally and give the Mariners a 15-14 win in a four-hour and 48-minute contest on Wednesday night at Wally Post Athletic Complex.
The Steam were in front 13-6 entering the bottom of the ninth, thanks in large part to a five-run eighth inning. But the final three outs were the toughest to get.
Thomas Lindeman walked and advanced to second on a wild pitch to start the frame. Matt Berler sent Lindeman home with a single and Kyle Schimpf followed with an RBI single of his own. That was just the beginning of the ninth-inning meltdown for reliever Ty Hoecker and the Steam.
Tyler Paulsen put runners on second and third with a standup double. Hoecker threw back-to-back wild pitches that allowed Schimpf and Paulsen to score. Hoecker walked Derek Parola and hit Brown with a pitch in consecutive at-bats. Mac Welsh was called to the mound to face pinch-hitter Sager with two outs. Sager took Welsh's 3-2 offering over the right-center fence to even the score.
"Billy came up for us (Tuesday night) in a situation where he could have won the game. That was the same pitcher on the mound. I knew Billy was going to be able to get the job done," Mariner skipper Chris O'Neill said.
Grand Lake's Nicholas Newton was lights out in relief. He took the ball in the middle of the eighth and carried it through the 14th. He successfully worked out of jams in the 11th and 13th, but couldn't keep the Steam off the board in the 14th as Kyle Dockus gave them a 14-13 advantage with an RBI single.
But the Mariners had one last rally in them.
Alex Dickey had shut down Grand Lake for four straight innings and then was replaced by Tarrin Beachy in the 14th. Tyler Schmidt and Paulsen greeted Beachy with back-to-back singles. Schmidt was thrown out at third on Paulsen's hit, but Paulsen later scored on a double by Parola to tie the game. Brown poked a shot to left field to seal the deal.
"He had been calling off the plate all day, off the plate and low," said Brown, who plays collegiately for Dartmouth. "I watched those two (pitches) because I knew those were pitches that I couldn't get the barrel to. I was just looking for a pitch that I could get the barrel to, poke it to the outfield or something and let things happen."
"What a game," O'Neill said. "These guys just battled throughout everything. It was nice to see us put up a seven spot to get ourselves back in this game. This is just a resilient and a very special group and I'm very proud of them."
Newton recorded nine strikeouts over his six-inning stint en route to earning his second victory of the season.
"Nick Newton is the best reliever in this league - I wholeheartedly believe in that," O'Neill said. "We have so much confidence in him to get the job done. Even when he struggled a little bit in the beginning, we knew that there was no doubt we were going to stick with them."
Joseph Filosa, Chandler Stahl, Taylor Parsons and Sam Traver also pitched for the Mariners. A combined 11 different pitchers were used in a game that featured 39 hits, including seven home runs and five doubles.
Paulsen led the way at the plate for the Mariners, going 4-for-7 with three runs scored. Parola was 3-for-6 with a homer, three RBIs and three runs scored. Schmipf also had three hits and three RBIs, including a two-run homer in the first that gave the Mariners a 2-0 lead.
The Steam went in front for the first time in the fourth inning on Roger Danison's two-run homer off the scoreboard, which made it 5-3. Grand Lake retaliated with a three-run sixth, using Parola's homer and Tyler Webster's RBI double to take a 6-5 lead.
The Steam scored eight runs in a three-inning stretch to give themselves a seven-inning cushion heading to the bottom of the ninth. Eight players in the Cincinnati lineup had multi-hit games, led by three-hit efforts from Andy Roser, Brandon Giltrow and Danison. Giltrow, Cole Murphy, Ethan Schmidt and Dansion all had homers for the Steam, who fell to 14-7.
"They're a very good offensive team, obviously, putting up 20 hits against us," O'Neill said. "But our guys just stayed positive and were able to battle and continued to pound the zone, doing whatever they could to combat their offense."
Grand Lake (14-8) travels to Flat Rock, Mich., today for a 7:05 p.m. game with the Lake Erie Monarchs.