Thursday, July 7th, 2016
Montana teens experience life in Midwest
By Ed Gebert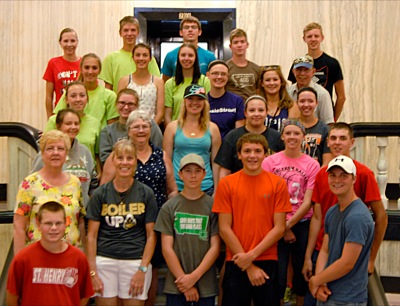 CELINA - 4-H club members from Montana got a close-up look at life in Northwestern Ohio through a recent visit hosted by the Mercer County 4-H Exchange Club.
Seven students and family members from Flathead County, Mont., arrived June 29 to stay with local club members and get a look at Midwestern life. It's not exactly like their home, local guide Barb Phares said.
"We're so different than Montana," she said. "Their county is where Glacier National Park is, so they have a lot of mountains, a lot of wilderness. They grow canola there. They have a big tourist kind of economy because of the park. And here, obviously, we have corn and beans and all that. It's really different. One girl said she had never seen so much corn in her life."
Melissa Maitland of Big Fork, Mont., said she was enjoying her trip even though life is quite different here.
"There are definitely not any mountains," she quipped. "Also, you guys are a lot closer together, like town-wise. We're much more spread out in Montana.
Maitland added they grow wheat and hay and make canola oil but don't grow corn.
"We don't do corn in Montana, so it's weird seeing all this corn and soybeans," she said.
Maitland found the soybeans very interesting, noting she never knew where they were grown.
Linda Stewart accompanied the students. She has 36 years of experience working with 4-H.
"I hope they'll learn how the different states do things and how the different 4-H clubs operate and how much we are really alike in the values that 4-H teaches and the travel experience," she said.
On the agenda for the weeklong Midwestern journey was a trip to Cedar Point, a stop at the Indianapolis Motor Speedway and visiting many local attractions. The group toured the Neil Armstrong Air and Space Museum, the Maria Stein Shrine of the Holy Relics and the Fort Recovery State Museum; attended a drum and bugle corps competition and two dairy operations; visited Hemmelgarn & Sons Eggs and the Mercer County Courthouse; watched the fireworks display over Grand Lake from Harbor Point 4-H Camp; shared a meal with an Amish family; and were treated to a Midwestern favorite - the breaded pork tenderloin sandwich.
"We treated them to a tenderloin meal because tenderloins are a very Midwestern thing, so they were all staring in disbelief at these huge sandwiches." Phares said.
As part of the exchange program, local 4-H members have already visited Flathead County.
"We were there in their county last summer and did a lot of things our kids would have never done, like riding a big ski lift up a really tall mountain," Phares said. "They took us horseback riding; we had a chuck wagon meal; we went to a buffalo farm and a yak farm and a really beautiful botanical garden there. It was a really neat trip."
The local 4-H members enjoyed seeing their own county from a different perspective.
"All us Mercer County people, we've been to the places we just visited, but we've never gotten the full-on tour," said local 4-H member Rebecca Phares. "We're also, along with them, learning about our own culture."
She said this visit is her third and last time hosting 4-H members from other states and she's enjoyed learning about their lifestyles while they get to know hers. She noted the visiting groups become a part of their families and they become a part of 4-H families in other states.
"It's been a good experience," she said.