Monday, July 11th, 2016
Redskins, Panthers pick up big victories
District 4 ACME Baseball Tournament
By Gary R. Rasberry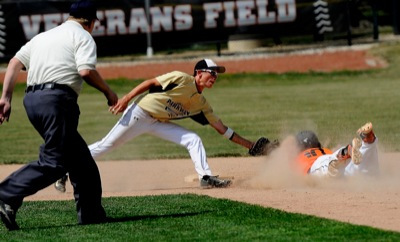 COLDWATER - Mercer County teams had their day in the sun on Sunday during the opening round of the District 4 ACME baseball tournament at Veterans Field in Coldwater.
St. Henry received five innings of one-hit ball from Parker Link and the offense collected 11 hits in a 9-1 win over Fort Loramie in the opening game.
In the finale of the day, Parkway trailed 7-3 before scoring six times in the top of the sixth inning to come back and beat Auglaize-Shelby top seed Minster 9-7.
St. Henry and Parkway will play tonight at 6 p.m. for the third time in just over a week and the fifth time this summer. The winner advances to Wednesday's district title game. In the nightcap, Minster and Fort Loramie also face off for the third time in just over a week at 8 p.m. with the loser being eliminated.

St. Henry 9, Fort Loramie 1
Link retired the final 13 batters he faced after giving up a two-out single to Eli Rosengarten with two out in the top of the first. Link went five innings without a walk before giving way to Tyler Schlarman in the sixth. Loramie was able to break up the shutout with a pair of base hits. The second one by Dillon Braun scored Devin Wehrman.
"It keeps everyone involved," St. Henry coach Jason Jacobs said of Link's effort. "It keeps our defense focused. He only struck out one guy, so that kept his pitch count down."
St. Henry plated three in the bottom of the second. Schlarman led off with a single and scored when he stole second and came home on the errant throw from home. Matt Siefring added a a single and scored on Ryan Luttmer's triple. Luttmer later came home when Loramie pitcher Jared Middendorf was called for a balk.
Middendorf kept St. Henry scoreless over the next two innings before the Mercer Countians added three more in the fifth. Curtis Uhlenhake had an RBI single and Schlarman tripled in pinch-runner Jaren Fishbaugh and later scored on a perfect squeeze bunt by Nate Lefeld. St. Henry wrapped up its offensive part of the day with three runs in the bottom of the sixth. Uhlenhake had an RBI double and Conner Bruggeman added an RBI single.
"We hit the ball well today," said Jacobs, whose squad had 11 hits on the game. "We were squaring up well and hitting it up the middle. Our hitting has been coming around lately. The key to string together multiple hits, which we've been doing lately."
Loramie tried to add some runs to their total in the top of the seventh, but Luttmer made a running catch in center and then fired the ball home to catcher Ryan Bruening, who tagged out Nathan Raterman for the game-ending double play.
Bruggeman, Uhlenhake, Schlarman and Luttmer each had two hits for St. Henry.
Parkway 9, Minster 7
The Wildcats took a 2-0 lead after the first inning and were up 6-3 and then 7-3 after five innings. Parkway started Carson Ford but was forced to use lefty ace Trace Walls in the third inning. Alec Schoenleben and Mason Baxter were used just to get out of the fifth inning.
Batters three through five in the Minster lineup - Jared Huelsman, Jon Niemeyer and Alex Lehmkuhl - combined to go 8-for-12 with five runs scored and three RBIs.
In the top of the sixth, however, Parkway turned the tide. Baxter, who came on to record the final out in bottom of the fifth, reached on an error. Shay Pond followed with a double and Clayton Agler singled to score Baxter. Jack Wehe stepped in and grounded to third. Parkway conceded the run to get the force at second, but the throw was wild and the two runners remained on base.
Aaron Ernst, who allowed just three runs on four hits over the first five innings, was pulled for Carter Hogenkamp, who was greeted by Alec Schoenleben with a double to score Alger. Carson Ford followed with an RBI single and Logan Huff's groundout brought home yet another run. By the time the smoke cleared, Parkway had sent 11 batters to the plate and had a 9-7 lead.
"We got the big hits when we needed them," coach Schoenleben said. "We've talked all year about getting into that bad spot (like the one early in the game). They dug deep, came out and starting swinging the (bat). I don't know what to say. They came ready to play and they played."
"We got off to a good start and hit the ball around a bit. Parkway really hit the ball, too," Minster coach Andy Schmitmeyer said. "You look at that sixth inning, that's where we really got into trouble. That's where the game was won or lost."
Baxter finished up strong in picking up the win, just allowing two singles in the final two innings to pick up the win.
"There's so many scenarios when you're down by that many and with the schedule, you know you have to play right away the next day and the day after. Your pitching revolves around that," coach Schoenleben said. "We went with experience with Alec Schoenleben (to coming after Carson Ford and Trace Walls) and he struggled. I didn't waste any time. I had confidence in Mason. He came in and just performed. I can't say enough of his performance tonight."
Alec Schoenleben went 3-for-5 with two RBIs. Agler added two hits from the leadoff spot in the Panther lineup.