Thursday, August 18th, 2016
St. Marys native to perform at Waynestock
By William Kincaid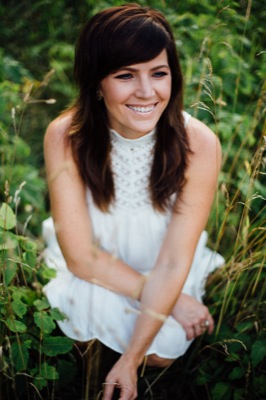 ST. MARYS - Singer-songwriter Lori Triplett is returning home from Cleveland to perform before thousands of music fans at the sixth annual Waynestock-Living for the Rock Christian Concert on Saturday.
This will be Triplett's third time playing the free summer musical festival on the north lawn of Skip Baughman Stadium that aims to bring people to Christ through music, testimony, prayer and giving.
"I love singing at home especially because my parents (Newt and Connie Triplett of St. Marys) are going to be there," Triplett, 33, told the newspaper in a phone interview.
Triplett said though she's a bit older and maybe wiser than when she made her debut at the festival several years ago, her performance style has remained much the same: Sitting behind the piano "pretty chill" - not flailing about wildly across the stage - delivering passionate, heart-felt Christian-themed songs.
She'll be joined onstage at 3:40 p.m. Saturday by a guitarist and drummer and intends to deliver three new songs from her forthcoming five-song EP, "Crooked Heart."
Triplett's last album, "Safe Place to Land," was released in 2009. Since then, she moved from Nashville to Cleveland and took some time away from songwriting to focus on the demands of daily live.
"Not intentionally away - I think when you become an adult that takes over, paying the bills, working," she said. "I have always kept pursuing (music), just not as heavily as I would have liked to."
For a few years, Triplett, who has a daytime gig as an account manager and staffing agency recruiter, didn't know if she had anything more to say as an artist. But a period of uncertainty and hardships eventually generated a spark that rekindled her desire to write new songs. She also strove to cut out the negativity in her life and grew deeper in her faith in Christ.
"These songs are probably the most dear to me," she said.
"Crooked Heart," Triplett said, is about moving away from the thousands of clamorous voices, the ways of the world and toward the freedom offered through Christ.
Triplett, who said she travels to lead worship for different churches, acknowledges that she composes and performs under the label of a Christian artist, a designation she believes should obligate a person to a higher standard. Yet at the end of the day, she said she's just a normal person, struggling and prone to making mistakes.
For updates on Triplett's career, visit www.facebook.com/loritriplettmusic.
The free Waynestock concert is open to the public and will begin at 2 p.m. Attendees are encouraged to bring lawn chairs or blankets. Parking is free and people are encouraged to park in the lots around the stadium.
According to organizers, last year's edition drew nearly 6,000 people.
National acts scheduled to perform Saturday are Tenth Avenue North, Unspoken, About a Mile, Jordan Feliz and City of Bright. Also performing will be local groups Awaken Band and St. Paul's Sunday School Band.
Concessions and merchandise will be available for purchase throughout the event. Donations will be accepted. All proceeds will benefit the Mercer County House of Hope in Celina and the District Eight Fellowship of Christian Athletes.
Mercer County House of Hope is a Christian organization serving people in the county who are recovering from drug addiction. The organization provides a place to live with Christian principles to fight substance abuse.
The FCA district serves an area including Allen, Auglaize, Hancock, Harden, Mercer, Putnam and Van Wert counties and encourages coaches and athletes at various age levels to use sports to impact the world for Jesus Christ. FCA focuses on serving local communities by encouraging people to make a difference for Christ.
The schedule includes,
• 2 p.m. - Awaken Band
• 2:40 p.m. - St. Paul's UCC Sunday School Band
• 3 p.m. - City of Bright
• 3:40 p.m. - Lori Triplett
• 4 p.m. - Jordan Feliz
• 5:15 p.m. - About a Mile
• 7 p.m. - Unspoken
• 9 p.m. - Tenth Avenue North