Saturday, October 8th, 2016
Five injured in 3-vehicle crash
By Amy Kronenberger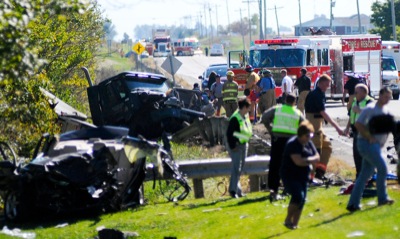 CELINA - Five people were injured in a three-vehicle accident on U.S. 127 on Friday afternoon.
The accident involved four adults and one infant, Mercer County Sheriff Jeff Grey told the newspaper on Friday. All five initially were transported by EMS to Mercer County Community Hospital, Coldwater. Three were later transferred to other hospitals, two by emergency helicopter and one by EMS. The names of those involved and their conditions were not released as of press time pending notification of their families.
Grey said an agricultural tractor pulling wagons of grain was traveling northbound on U.S. 127 between state Route 274 and Depweg Road at about 2:25 p.m. Several cars reportedly were following the tractor due to its slow speed.
A semitrailer with one occupant reportedly was traveling southbound on U.S. 127 and was next to the tractor when a cross-over SUV, carrying two adults and an infant, pulled out from behind the tractor into oncoming traffic, Grey said.
The SUV and semi reportedly crashed, and both came to rest on the east side of the road. A full-sized van with one occupant also was involved and came to rest sitting diagonally across the two lanes. Grey said the van was traveling northbound behind the SUV at the time of the accident. The tractor was not involved in the accident, Grey added.
Emergency responders closed the road to reconstruct the accident, remove the vehicles, and clean up debris, Grey said. The road remained closed until shortly after 11 p.m.
Chickasaw and St. Henry fire departments and Mercer County Emergency Response Volunteers assisted the Mercer County Sheriff's office at the scene. The Public Utilities Commission of Ohio was called to inspect the semi. The accident remains under investigation.