Tuesday, January 3rd, 2017
Food banks help fight off hunger
By Tom Stankard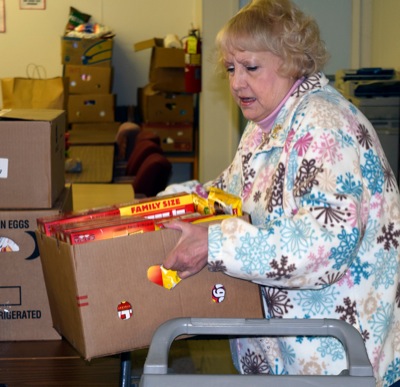 As the weather gets colder, more families rely on local food banks for assistance.
Data released by the U.S. Census Bureau American Community Survey show the number of Ohioans eligible for help from food banks has increased by more than 356,000 people since the end of the Great Recession.
However, local communities are seeing mixed trends.
In Celina, OUR Home Family Resource Center served about 2,400 people last year. The year before that, OUR Homes' Edna Backs said the pantry served about 2,600 individuals. The decrease, she said, can be attributed to more people in the workforce.
In Coldwater, Rob Fisher at Holy Trinity Catholic Church food pantry indicated the facility is serving an average of about 120 families per month.
"Anytime you can help some less fortunate, it's a good feeling," Fisher said.
Last year, Fisher said the service provided aid for about 309 families. This is a decrease since 2015, when Holy Trinity served 337 families. A possible reason the pantry is serving fewer people is because more people are moving away from the area, Fisher said.
At Agape Ministries in St. Marys, director Kathy Bayless said the food pantry served more than 28,000 people from Western Auglaize County last year.
In 2015, the group served about 26,000-27,000 people. According to Bayless, it is serving more people because more are moving into the area, and they need extra support.
To aid Agape, Kroger, Wagner's IGA and Pantry Pride grocery stores continue to donate day-old bakery items, Bayless said.
Each month, CALL Director Tim Clutter said the Celina service provides food for upwards of 600 families, or more than 2,300 individuals, per month.
With winter in effect, Clutter encouraged more people to donate to food panties.
As it gets colder, he said low-income families have trouble paying for increased utility bills and for food. Totals from previous years at CALL were unavailable.
Bayless agreed, saying elderly people often are forced to choose between paying for food or their medicine.
During the holiday season, Bayless said food pantries see an increase in donations.
After the holiday season, however, Bayless encourages people to continue helping those in need by donating.
According to the statewide release, from 2011-2015, about 34 percent of all individuals in Ohio, or more than 3.8 million people, lived in households with incomes below 200 percent of the federal poverty level, or about $40,000 a year for a family of three.
That's up from about 31 percent, or about 3.46 million people, during 2005-2009.
"With state revenues failing to meet estimated projections, it's a troubling sign that a possible recession may be ahead," said Lisa Hamler-Fugitt, executive director of the Ohio Association of Foodbanks. "We are extremely concerned about the reality that not only have household incomes still not recovered but that the recovery period might, in fact, be over."
Ohio's metropolitan areas, which represent about 83 percent of Ohio's total population, have collectively seen an 11.39 percentage increase in the number of residents living below self-sufficiency from 2005-2009 (2,750,729 people) to 2011-2015 (3,064,056 people).
Of Ohio's 88 counties, 75 still had more individuals living in households with incomes below the self-sufficiency standard from 2011-2015 than were from 2005-2009.
At the county level, 22 counties have at least 4 out of 10 of their residents living in households eligible for help from food banks.

Food banks serving area residents:
Agape Ministries
1220 E. Spring St., St. Marys
419-394-8700
CALL Food Pantry
420 N. Brandon Ave., Celina
419-586-3574
Calvary Chapel Baptist Church
71 N. Hamilton St., Minster
419-628-3717
OUR Home Family Resource Center
117 W. Fayette St., Celina
419-586-4663
Holy Trinity Catholic Church
Mercer Health-West Campus, 830 W. Main St., Coldwater
419-678-4802
North American
Indian Cultural Center
304 E. Anthony St., Celina
419-586-6567
Parkway Ministerial Association
at Rockford United Methodist Church, 202 S. Franklin St., Rockford
419-363-3230