Friday, January 6th, 2017
Will, Kaiser carry Tribe over Redskins
Senior duo scores 22 apiece in 65-44 victory
By Colin Foster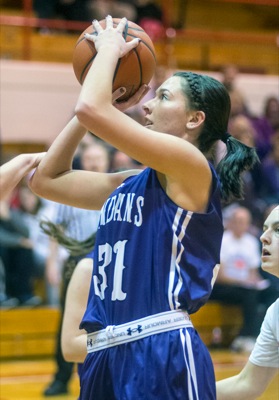 ST. HENRY - The weight of the world was lifted off the shoulders of Fort Recovery's Jocelyn Kaiser and Whitney Will once they made their college decisions.
All the duo is focused on now is shouldering the scoring load for the Indians and leading them to more success.
Kaiser and Will scored 22 apiece on Thursday night, and Fort Recovery remained unbeaten with a 65-44 victory over St. Henry at Redskin Gymnasium.
"I think they're playing with confidence," Fort Recovery coach Brian Patch said. "Both of them have made their college choices. I think that has a lot to do with it to be honest. They got some of that pressure off of them. They don't have to worry about that anymore - they can just go out, relax and have fun, enjoy their senior year and play."
The Indians opened the game on a 10-3 run, but the Redskins closed the gap to one point after back-to-back three-pointers by Kendra Rose and Nora Vaughn. Fort Recovery led 16-11 after one quarter with Kaiser and Will combining for 14 of Fort Recovery's 16 first-quarter points.
The Indian advantage was bumped to double figures by the 4:15 mark of the second quarter. Again, they rode the scoring of Kaiser and Will, who scored nine out of the first 11 points to make it 27-15. Kaiser later drove for a bucket and hit a pull-up jumper to extend the lead to 15. Danielle Lange banked in a trey for St. Henry at the halftime buzzer to close the gap to 34-22.
But Fort Recovery went on a 10-2 run in the first 2 1/2 minutes of the third to grab its first 20-point lead of the night, and the Redskins never recovered.
"We had a little trouble with our defense in the first half," Kaiser admitted. "But we picked it up in the third quarter. We all got our heads straight and came together."
"We had a good response after half," Will added.
Kaiser, who has committed to Capital University next season, and Will, who will attend the University of St. Francis, had outscored St. Henry 38-30 by the end of the third quarter. The duo has combined for 69 points in the Indians' two lopsided wins this week (including a 60-44 victory over St. Marys on Tuesday).
"Right now we need them to play that way," Patch said. "Some of our other kids are struggling a little bit. I thought those two came up big and carried us tonight, and I also thought Carley Stone was a huge difference-maker for us as well. She got those girls shots and she made a difference out there defensively."
The aforementioned Stone finished with seven points, seven rebounds and six assists. Grace Thien added 10 points on 4-of-9 shooting.
Thursday's victory was the sixth double-digit victory by the Indians this season. They improved to 7-0 and 3-0 in MAC play with some key conference games slated in the upcoming weeks.
"As long as we come out ready to play and do our jobs, we're ready to compete," Kaiser said.
"We've gotten better," Patch said. "I'm one who's not caught up so much in records or by the margin of victory. We just want to get better constantly. Every time out, in practice and in games, we want to improve on things we're not very good at."
Kendra Rose came off the bench and scored 15 for the Redskins, who committed 27 turnovers and went 14-of-37 from the field as they fell to 5-7 and 1-2 in the MAC.
"To take away 27 opportunities for us to score and to turn around and give them that many more opportunities when they're making shots on a consistent basis, that's not a good combination," St. Henry coach Kurt Huelsman said. "They did a very good job of forcing us into turnovers and reading our passes. But I also thought that we could have done a better job of handling the pressure.
"They did an excellent job of finishing around the rim and that's something we talked about. We wanted to make sure we really protected the paint and limit their touches inside, but they still got shots."
St. Henry will try to rebound on Saturday when it hosts Bradford. Fort Recovery will shoot for its eighth straight victory on Saturday at Van Wert, which will be played at the old high school gymnasium.