Friday, January 13th, 2017
Robot Rumble
Coldwater team aims to block opponents
By William Kincaid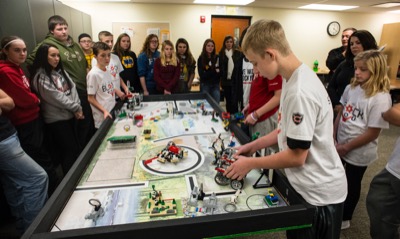 COLDWATER - One of Coldwater Middle School's two robotics teams is headed to Bowling Green State University on Saturday to compete in the For Inspirational and Recognition of Science and Technology (FIRST) Lego League District Qualifier.
The seven-member We Will Block You will vie against 22 other teams, with the top nine moving on to the state championship Feb. 4-5 at Wright State University in Dayton.
The students aren't seeking just glory; they're serving as ambassadors for the middle school's science, technology, engineering and math program introduced this year, co-coach Jared Ebbing said.
"Extracurricular activities like this, where the public can see the benefits, make it easier to have a STEM program and convince the public and the school board that these kind of activities - hands-on learning - are important," he said.
Ebbing, alongside fellow parent coaches Becca Wenning and Liane Muhlenkamp, watched as We Will Block You demonstrated its presentation during lunch break before an audience of Tri Star Career Compact students.
The competition, though, isn't based just on how well a robot performs. Teams also must give numerous presentations, among them an overview of their projects that aim to better the interactions between humans and animals. It will factor into their overall score for the day.
For this "Animal Allies" challenge, the students - seventh-graders Caleb Stammen, Ashlyn Koester, Tanner Muhlenkamp, Nathan Snook, Tate Wenning and Austin Ebbing, and eighth-grader Jay Muhlenkamp - chose to take on the Grand Lake Watershed's manure-management issue.
"They wanted the kids to develop and find a problem and then research and come up with solutions," Ebbing said.
The students proposed taking anaerobic digesters to dairy farms with million-dollar investments in robotic milkers. They resolved to use a screw press to separate liquid and solid manure, to better manage the waste and produce electricity from the methane captured in the process.
"Obviously we live in an area where there's a lot of runoff, watershed issues with the lake so they're trying to tie that all in - cow comfort, benefit the farmer, benefit our lake, benefit the environment," Ebbing added.
The "Animal Allies" presentation is one of the teams's strengths. At the Versailles regional qualifier in November, We Will Block You received the top score in this category, giving them a high enough overall ranking to move on to Saturday's district qualifier.
Middle school principal Dan Pohlman, who also coaches the other, younger robotics team, commended the teammates for their work.
"It's pretty phenomenal. Some of these guys play sports and they're involved in a lot of things and sometimes they were here on Sundays and evenings at 8 o'clock," Pohlman said. "I'm very proud of you guys, of the work you put in and just the sense of ownership you guys kind of took in this project."
The team personifies what STEM education is all about, he noted.
"That's what we're trying to push in the middle school. We're trying to get people to collaborate their ideas together and come up with a solution," he explained.
Then the students amazed the audience by demonstrating how their robot works. On Saturday they'll complete a series of missions per judges' specifications.
"They do the best they can to control what that can," Ebbing said. "They program it the best they can. They design that robot from basically ground up, and we hope for the best."
The team in September received Lego kits and instructions on how to build and program a robot for competition. They all played a part in its construction, whether designing, planning or building the robot.
"I think we've got a pretty good chance because our robot is starting to work more times than not and then our project - it was the best at the Versailles competition. Now it's even better," Stammen said.
Koester agreed.
"Our project is really one of a kind," she said. "We are a big farming community so that also gives us more ideas."
Ebbing again emphasized the hands-on, project-based learning that is involved with both robotic teams and STEM, which he said is perfect for kids who like to tinker "because they realize they like school again because they can learn by doing."
"The high achievers sometimes do well taking tests but they don't know how to communicate and work together and do things, so STEM robotics is good for that (as well)," he said.
For example, coach Wenning said Koester is a very arts-minded student with an interest in drama.
"But now she's walking out of here also knowing how to program a robot," she said. "And these are not just general problems - these are the same things that you find if you go to Coldwater Machine, if you go to Pax Machine Works."
The team was organized after Ebbing gathered area educators to gauge interest in a five-day summer camp at Wright-Patterson Air Force Base in Dayton. Several Coldwater teachers and students attended.
Coldwater added a second team in 2016. Marion Local and New Bremen schools also formed robotics teams, Ebbing said.