Monday, January 23rd, 2017
Celina native at women's march to support education
Big weekend in D.C.
By William Kincaid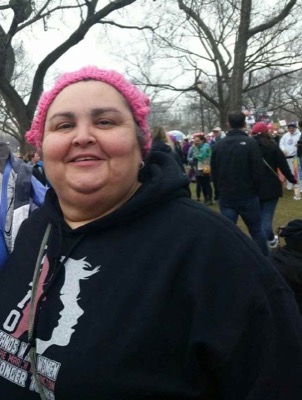 WASHINGTON - Sophia Rodriguez of Celina participated in the Women's March on Washington on Saturday not to protest President Donald Trump but to cry out for a cause dear to her heart.
"It's education, public education," Rodriguez told the newspaper on Sunday at her family's restaurant, Celina's Casa Rodriguez. "I truly believe that public education is the key to all the other social justices that exist."
Rodriguez, 50, has dedicated her life to education. As well as teaching at Coldwater Exempted Village Schools since 2001, she is a National Education Association director and serves in the Western Ohio Education Association.
The hundreds of thousands of women and men of all backgrounds and ethnicities on Saturday marched for different causes, ranging from women's health care, LGBT rights, veterans services, refugees, immigrants and equal pay, Rodriguez pointed out.
"Every single one of those individuals had a reason to be there, whether it was to be a voice or whether it was to protest," she said. "Whatever the reason that is their right as a citizen."
But for Rod-riguez, the one common denominator linking together all these causes is public education, which she said fosters an open and diverse mind and gives people the ability to solve and understand challenges on their way to becoming successful and productive citizens.
"Public education is the connectivity to all those things. It is the thing that connects us all," she said. "Most of us are not very, very wealthy and public education is a guarantee to every citizen of our country."
"(For me) this was not about a protest on President Trump. He is my president, he was elected," Rodriguez stressed. "Me as a citizen, I have the right to say, 'Mr. President, these are my issues and I think they're important, not just for me but all the people that are affected by this issue, which was education.' "
Rodriguez was accompanied by her aunt, Robin Rodriguez of Lima, to Washington, D.C.
At the nation's capital, the two joined a sea of people, among them Rodriguez's former students, many singing songs and wielding signs emblazoned with their causes and flags of other countries, representing multiculturalism and the worldwide impact of the issues at hand.
"It was incredible to see the number of people there that were representative of what our country is and that's diverse," she said, noting that within the crowd were entire families, people with canes and in wheelchairs, the young and old of every color.
"Personally, to me, it wasn't about being negative, it wasn't about hate, it wasn't about violence ... I practiced my constitutional right to voice the issues that are important to me," she said.
Though women marchers outnumbered the men probably 10-to-1, the presence of the men showed that women's rights are human rights, Rodriguez said. Men were there to support their mothers, sisters, wives and children.
Departing from Englewood late the night before, Rodriquez said she remembered the last time she was on a charter bus as a little girl with her mother, Ignacia Rodriguez - on their way to Mexico to visit Ignacia's mother. Rodriguez said her mother had told her they had a long trip in store "but we're going to get to where we need to go."
That message echoed once again.
"My feet didn't hang off (the seat) this time but there was a comfort of a destination of going to where people were just like me," Rodriguez said about her journey to the capital, her eyes tearing up. "My mom, she came to this country illegally to work. That's all she wanted to do. Now she's a citizen and she has four remarkable children that are productive citizens to our county. That, for me, is the epitome of what America is."
Ignacia, one of 16 children, came to the United States as a migrant worker, Rodriguez said. While in this area, she met Tolentino Rodriguez of Texas, who was also working the fields. They married, settled down in Celina and eventually opened Casa Rodriguez in 1981 with a small business loan offered to spur economic activity during the recession.
"We own a Mexican restaurant in Mercer County and people love coming here. And to me, my mom's dream was, 'I just want to work. I want people to come and eat good food and be with their family,' " she said. "It wasn't about making money. It wasn't about being famous. It was about working. To her and my dad, that's the whole value of existence - to work and be productive and help others."