Saturday, January 28th, 2017
Redskins win in OT
By Gary R. Rasberry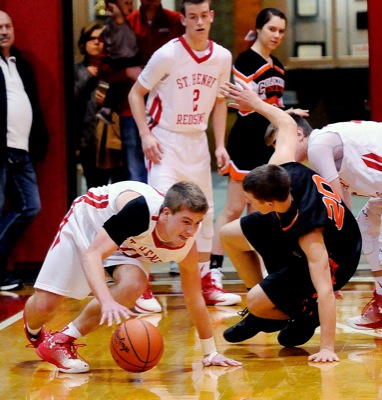 ST. HENRY - The second edition of the Backyard Battle proved to be as exciting as the first.
St. Henry came back from being down 10 points in the first half to take a lead late in the game against Coldwater, only to have Coldwater's Cole Frilling hit a three-pointer to send the game into overtime.
In the extra session, the Redskins took control and beat their neighbors 62-53 at Redskin Gymnasium on Friday night.
St. Henry improves to 10-5 and 3-2 in the Midwest Athletic Conference with the victory.
The teams went to overtime the first time they met this season at the Holiday Classic in Coldwater, with the Redskins getting a 57-52 win against a Cavalier team that had just three games under their belt.
This time, the Cavaliers (5-8, 2-3 MAC) were at full strength. Derek Albers' hoop-and-harm three-point play early in the second quarter put Coldwater in front 16-14 and triggered a 13-2 run that put Coldwater ahead 26-16 with 2:38 left in the first half. Ryan Luttmer hit a two-pointer and then Curtis Uhlenhake and Blake Hoyng knocked down back-to-back three-pointers to pare St. Henry's deficit to 26-24 at halftime.
"Early on, Coldwater punched us in the mouth. They were more physical, athletic and more prepared than we were," St. Henry coach Eric Rosenbeck said. "Late in the first half, we had 3-4 key stops and knocked down some shots to make it a two-point game."
"Give St. Henry credit. They were down 9-10 and really dug in defensively," Coldwater coach Nick Fisher said. "That was where we didn't handle the ball well and took some quick shots that weren't falling. That gave (St. Henry) opportunities to get back in it."
Coldwater maintained its lead through most of the third quarter and was leading 46-40 with 4:52 left in regulation after a Marcus Bruns' basket. Again, though, St. Henry fought back. Luttmer and Tyler Schlarman combined for seven straight points to put St. Henry up 47-46 with two minutes to play. Bruns hit two free throws to put the Cavs back in front by one, but Schlarman followed with a basket while being fouled to make it 49-48 with 52 seconds left. Schlarman missed the free throw, but Coldwater could not take advantage. Hoyng hit two free throws with 38 seconds left to make it a three-point Redskin lead, but when St. Henry had a chance to make it a two-possession game, the Redskins missed two big free throws with 21 seconds left. Neal Muhlenkamp pulled down the rebound and got the ball to Frilling, who hit the tying trey with 13 seconds left. St. Henry had two good chances to get the winning basket, but just missed on both attempts to send the game to overtime.
"I felt like at times in the fourth quarter, we'd have a two-point lead and could have put some distance (in the margin) and I felt like we weren't disciplined enough," said Fisher, whose squad had five of their 10 turnovers in the fourth quarter.
St. Henry wasted no time in taking control in the four-minute bonus session. Luttmer scored 29 seconds in to put St. Henry front for good. Coldwater came up empty on its first two possessions as Mitch Schwieterman scored on two straight possessions to put St. Henry up 57-51. Bruns ended the Cavalier drought with two free throws with 2:06 left, but Coldwater was shut out the rest of the overtime as Schlarman and Parker Link hit free throws down the stretch to close out the game.
"Senior leadership: Blake Hoyng, Nathan Lefeld and Mitch Schwieterman. Absolutely love those young men," Rosenbeck said. "They made decisions in huddles because it's their team and they backed it up. I give credit to all of (those guys), especially Blake, who had his shoulder pop out early in the game and had to have Connie Buschur, our trainer, pop it back in for him to return. He (also) has a broken wrist. I just love that kid. He's awesome."
"I told the kids the effort was awesome," Fisher said. "It continues to be positive. We just need a little more discipline."
Schlarman finished with 17 points and 10 rebounds for St Henry. Luttmer scored 14 and Hoyng scored 13 points in 32 minutes of playing time.
Bruns led Coldwater with 13 points. Thobe added 12 points.
Both teams are back in action tonight for contests against Western Buckeye League teams. St. Henry travels to Auglaize County to face 15-1 Wapakoneta and Coldwater plays host to Van Wert.