Friday, February 3rd, 2017
Roughriders rout Bulldogs
By Gary R. Rasberry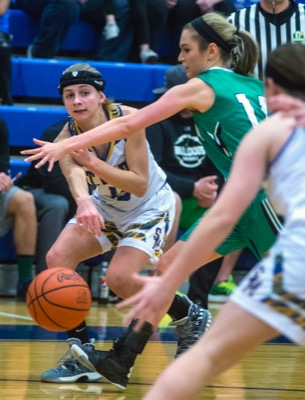 ST. MARYS - The ladies' night edition of the Battle of Grand Lake was one that Celina would probably like to omit from the record books.
The short-handed Bulldogs struggled in most aspects of the game as St. Marys picked up a big 61-18 win in Western Buckeye League play at Murotech Court on Thursday night.
Celina (1-17, 0-7 WBL) was missing guards Lauren Jackson and Brooke Robbins from the lineup and lost Bailey Exman to injury late in the first quarter. The loss of key ball handlers and St. Marys' pressure defense took their toll from the get-go as the Bulldogs were shut out in the first quarter 16-0. Celina turned the ball over 40 times in the contest, leading to a number of layups for St. Marys.
"Our main issue is ball-handling," Celina coach Steve Bader said. "We lose our two best ball handlers because they were sick. That would have helped us."
"They're young and we tried to pressure their guards," St. Marys coach Nikki Miars said. "We got steals."
While the Roughrider defense was doing a spectacular job, their shooting was a bit chilly on the night. The team was 10-of-35 from the floor in the first half and finished 23-of-75 for the game (30.7 percent, just slightly better than Celina's 30.4 percent effort).
"We did miss a lot of easy layups," Miars said. "You need to put those shots in because those shots will come back to get you in closer games. Overall, we stayed focused the majority of the game, which was nice to see.
Maddy Luebke finally put Celina on the scoreboard with 4:39 left in the first half with a layup that made the score 18-2. Reilly Cox added another basket with 12 seconds left to make the score 27-4 at halftime.
St. Marys (11-8, 5-2 WBL) continued to put the pressure on Celina even while comfortably up in the second half, resulting in 15 second-half turnovers. Celina was able to get off some better shots and matched their first half effort in the third quarter and scored 10 points in the fourth quarter.
"You can see our inexperience and skill level's not too strong. You can see what a veteran team can do to you," Bader said. "We have to get people back."
Shania Taylor, who was 83 points shy from the 1,000-career point mark coming into Thursday, led all players with 16 points, albeit on 6-of-22 field goal shooting. Lauren Cisco came off the bench to score 11 and Makenna Mele added 10.
Celina received six points from Cox with Emma Lutz and Maddy Luebke scoring four each with Luebke pulling down nine rebounds.
St. Marys travels to St. Henry on Saturday for a matinee game. Celina travels to Crestview on Tuesday. Both games will feature a two-quarter junior varsity game.