Wednesday, February 8th, 2017
Hanging on at the Hangar
Free throws help Marion Local hold on to beat Bath
By Gary R. Rasberry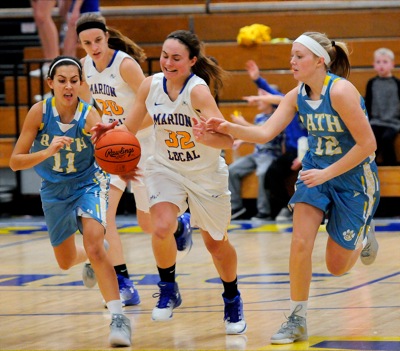 MARIA STEIN - The key to Marion Local's victory on Tuesday night can be pinpointed to two time frames lasting a total of less than two minutes.
The Flyers scored the first seven points of the third quarter to go up nine on Bath and then hit six free throws in the final 44.6 seconds to hold off the Wildkittens 46-40 in a MAC vs. WBL girls basketball matchup at the Hangar. The win puts Marion back over .500 on the season at 10-9.
"Three different girls stepped up and hit free throws," Marion Local coach Beth Streib said. "It was huge to keep that 4-5 point lead. A big difference from having a two point lead, especially against such a good team like Bath that has good shooters and can hit from outside."
After a back-and-forth first half that saw four ties and seven lead changes, the first minute and nine seconds of the second half proved big for the Flyers.
Marion led 18-16 at the half on Jessie Kramer's bucket with just under three minutes to play in the second quarter. Neither team shot well with Bath shooting 25 percent and Marion Local 31 percent.
Sarah Fesenmyer kicked off the third quarter with a bucket 20 seconds into the half and after a Bath miss, she connected again to make it 22-16. After another Bath miss, Chloe Bertke drilled a three-pointer to make it 25-16 with 6:51 left in the quarter, forcing Bath coach Greg Mauk to call timeout.
"They killed us with seven straight points," Mauk said. "It just swung the momentum of the game, especially since we weren't good at the foul line. We were (4-of-10) at halftime. If we have a little better percentage there, the momentum would have swung in our direction."
Bath tried to get back into the game and was down only five at 33-28 with 2:30 left in the quarter. Macey Griesdorn and Natalie Rethman closed out the quarter by sandwiching buckets around a Morgan Heckman free throw to put the Flyers up 38-28 heading to the fourth quarter.
The Wildkittens (12-7) started putting pressure on the Flyers as Heidi Craddock scored five quick points to get Bath to within 38-33 with 6:16 left. Streib had to call three timeouts in less than two minutes, two of them to keep the Flyers from turning over the ball. Rethman hit a basket with six minutes to play to put Marion back up seven, but Bath scored five straight points, three on a Jaidyn Hale three-pointer, to get the Wildkittens to within two at 40-38 with 2:06 remaining.
"We built it up to nine real quick, which was good for our confidence," Streib said. "Then we got a little complacent with offense. We had some good shots that didn't go in."
Neither team scored over the next minute and a half before Heckman was fouled and went to the line for the one-and-bonus.
Heckman made both shots to make it a four-point game. Bath missed a shot on its next possession and Kramer was fouled after Emily Nietfeld got the rebound. Kramer calmly made her pair with 29.7 seconds left to make it a six-point game. Bailey Dackin scored with 14 seconds left, but Griesdorn was fouled on the inbounds and made her two free throws to ice the game.
"That's one good thing about having four seniors who are great leaders out there (Kramer, Fesenmyer, Bertke, Griesdorn)," Streib said of holding off Bath at the end. "With Jessie back (after an injury), I thought she stepped up at the end and took charge running the point at the end."
"They hit six in a row. That's the ballgame," Mauk said. "I was happy with our kids. There were things we did well, but there were things we have to get better at."
Fesenmyer led Marion with 13 points. Griesdorn scored eight of her 12 points in the second half.
Hale scored 13 to lead the Wildkittens. Craddock added 11.
Marion returns to MAC play on Thursday with a road trip to Arnzen Gymnasium to face Delphos St. John's. The junior varsity game will only be two quarters in length.