Tuesday, February 14th, 2017
Cardinals crank it up
New Bremen dominates second half to pull away from Parkway for an 82-43 victory in MAC action
By Gary R. Rasberry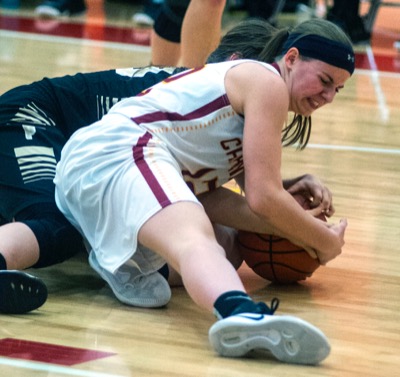 NEW BREMEN - With 3:16 left in the first half, New Bremen held a slim 30-28 lead on Parkway.
That was the last time that the Cardinals had to worry about holding on against the Panthers.
New Bremen outscored Parkway 52-15 over the final 19 minutes of the game en route to an 82-43 victory in Midwest Athletic Conference girls basketball action on Monday night at Cardinal Gymnasium.
The Cardinals (10-11, 2-6 MAC) used great defensive pressure to convert 26 Panther turnovers into 30 points and shot over 50 percent from the field.
"That was fun to watch," New Bremen coach Chris Burden said. "That goes to show that on any night we can shoot the ball as well as anybody can. The confidence in the girls kept on going. I think we were able to push the ball and kind of wear them out, especially in that third quarter."
The first segment of the game was back-and-forth as Parkway was up for the challenge and had an 8-4 lead early before the Cardinals came back to take a 14-13 lead late in the first quarter and held a 17-16 lead after the first quarter.
A Macy Puthoff free throw made it 18-16 to start the second quarter, but Bailey Bates tied the game with one back and then Sydney Crouch gave Parkway a 20-18 lead with six minutes left in the first half with a bucket. Kayla Bergman quickly tied up the game for New Bremen and Macy Puthoff stole the ball and got the layup to drop to put New Bremen back in front to stay at 22-20.
After a Jane Homan basket made the score 28-22 Cardinals with 4:21 to play, Parkway responded with back-to-back treys from Bates and Crouch sandwiched between an Amanda Brown basket to make the score 30-28. New Bremen responded with a 12-4 run to end the half to go up 42-32.
The third quarter started with New Bremen scoring four quick points. Haley Hawk hit a free throw to make it 46-33 with 7:08 left in the quarter, but the Panthers would not score again for nearly five minutes. During that time, New Bremen rattled off 21 straight points as Puthoff, Bergman, Homan, Tenkman and Abbi Thieman could not miss. By the time Hawk snapped the run with a basket, it was 67-35.
"We were able to get some easy buckets, transition buckets," Burden said. "That was good to see out of our girls.
"We didn't rebound, they outhustled us and we had too many turnovers," Parkway coach Linda Hawk said. "I'm trying to find something positive (about) the game and most aspects was off tonight. We have to have more effort."
New Bremen led 71-35 after three quarters as Burden emptied his bench and played all 15 players he had on the roster. Marissa Topp had five points in the quarter to help the Cardinals close the game out.
After shooting just over 50 percent in the first half (18-of-35), New Bremen was 14-of-25 from the floor in the second half (56 percent), including 5-of-8 from the three-point line.
Puthoff had a dominating night, leading all players with 20 points, 11 rebounds and six steals.
"She has that instinct you like to see in a basketball player," Burden said of the freshman Puthoff. "She gets her hands on a lot of different passes and able to deflect a lot of them and corral them. ... She's growing as a player."
Homan finished with 15 points and 10 rebounds while Bergman scored 12 and Thieman added 11.
Crouch led Parkway with 15 points and nine rebounds. Hawk added 10 points and nine boards.
While New Bremen wraps up the regular season on Thursday at Delphos St. John's, Parkway hosts Spencerville tonight before finishing the season on Thursday by hosting St. Henry.