Saturday, February 18th, 2017
Buchy reflects
Former state rep embodies philosophy from years past
By William Kincaid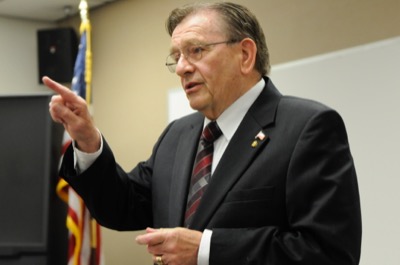 CELINA - Faith. Family. Hard work. 
It's a relatively simple focus, but one that has served former State Rep. Jim Buchy, R-Greenville, well over the course of 33 years in public service, a tenure that included 12 two-year terms in the Ohio House of Representatives.
"I've had people tell me over the years, 'Buchy, you live in the '50s,'" he said. 
He makes no bones about possessing that mentality.
"Yeah. Come on back. It works. There's nothing exotic about it. You do the right things, you treat people well," Buchy told Grand Lake Rotarians while reflecting on his career. 
Buchy retired from the Ohio House in January, opting to spend more time with his family. The 84th District comprises Mercer and portions of Auglaize, Darke and Shelby counties and is now represented by former State Senate President Keith Faber, R-Celina.
Buchy is the former president and CEO of Buchy Food Service in Greenville, the family business that stood for 134 years before it was sold four years ago.
"I had the privilege on two occasions to represent Mercer County in the House," he said. "I'm from Greenville. I'm a butcher by trade. I know hogs from the inside out. And I learned a long time ago that this area where we're from is the best place in the world."
Buchy said he stumbled into public service in 1980 after being appointed to the Greenville City Schools Board of Education. 
A few years later, Buchy went on to serve in the House, his first stint from 1983-2000. He left due to term limits and became assistant director of the Ohio Department of Agriculture for four years. He then worked at the National Federation of Independent Business, lobbying on behalf of small businesses.
Buchy returned via appointment to the 84th District seat in 2011, which he held until a short time ago.
"I never missed a day," Buchy said. "Dad always said, 'You can't make decisions if you're not in the room.' I took the job seriously and I was privileged to be in leadership."
That leadership entailed two terms as assistant whip, one term as  majority whip and two terms as assistant majority leader, Buchy said.
He characterized himself as a defensive player who flew below the radar. 
"I always figured that the best thing you could do is try to stop bad bills," he said. "The bad bills you know you couldn't stop, try to make them less bad and then make the good bills better."
Buchy said he strove to get the best return for citizens on their tax dollars. As an administrator, he sought to shrink government and cut red tape, regulations and bureaucracy.
"The spending didn't (shrink) because the government grew, but we reduced the cost of doing government over the years and we lowered taxes," he said.
While Buchy was in the House, 3,100 bills became law, nine of which he sponsored, he said.
Yet despite spending much time in Columbus and elsewhere in Ohio, Buchy's heart was always in West Central Ohio.
"If government in Columbus and Washington ran like government does in Mercer County, we would have better returns (on our taxes)," Buchy said.
Buchy touted both the 84th District's strong agricultural economy and excellent schools.
"The 84th House District produces 15 percent of the total food production in the state every year. That's the dominance of agriculture," he said.
Concerning Grand Lake, all sides need to work together to improve its health, he said.
 "It took the lake 150 years to get into the situation. There's been a lot of money invested in the lake and there's a lot of education going on in the agriculture community to have best practices to reduce input. The culprit is phosphorous, and we all know that," he said.
The area's schools as a whole, Buchy said, "are probably as good of schools as there are in Ohio."
"We have five schools basically within 20 miles in the 84th House District - that would be Russia, Fort Loramie, Minster, Marion Local and Versailles - and those five schools are always in the top 50 of ... Ohio," Buchy said. "It's typical of the school systems here."
Compared with some Cleveland public high schools, where on average $15,000 is spent on each student and the graduation rate is 50 percent, it costs around $8,000 to educate students in local schools where the graduation rate ranges from 90 to 100 percent, he noted.
Moving on, Buchy also addressed Ohio's drug epidemic, attributing it part to the turning over of personal responsibility to others.
"In my opinion, this all started with the Great Society when we started looking to government to do for us what we have been doing, should be doing for ourselves," he said.
For a variety of reasons, people unable to achieve economic productivity are looking to drugs and alcohol, he said.
Asked about the political divide in the United States, Buchy, an ardent Donald Trump supporter, credited it to an ongoing battle.
"It's simple. It's capitalism versus socialism," he said. "That's the issue. Are we going to keep freedom or aren't we?"
He pointed to the fact that the United States is the longest running free republic in the history of civilization.
"There are those that want to take that away from us," he said. "The Masters of the People want to tell you and me how to live our lives."
Though no longer in office, Buchy continues to provide advice and consultation to state legislators and advocates for agriculture-based education in public schools.