Thursday, February 23rd, 2017
Keck, Weitzel each earn spots on state podium
Division II State Diving Championships
By Gary R. Rasberry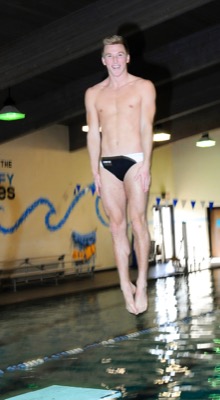 Compiled by Gary R. Rasberry

For the fourth time in his diving career, Coldwater's Caleb Keck reached the podium at the biggest meet of the season.
Celina's Sawyer Weitzel, who had come close in previous years, finally reached the podium in her senior season.
The two area divers earned All-Ohio honors with top-eight finishes at the Division II OHSAA State Diving Championships held at C.T. Branin Natatorium in Canton.
Keck, having placed fifth, fourth and third in his previous three trips to state, faced tough competition and finished third for the second straight year.
"I definitely feel like I performed my best today," Keck said via telephone. "I pretty much hit everything I wanted to. I didn't leave anything out in the pool. I'm happy how it all turned out."
Weitzel, who just barely made it to state for the fourth time in her high school career after a rough district meet, had a tremendous showing and finished eighth, besting her previous top finish of 10th when she was a freshman.
"I felt like I wanted to cry. I was so excited," said Weitzel of her reaction. "I was so happy. Everybody was so happy."
Coming in, Keck knew he would have a challenge from last year's runner-up Noah Vigran of Indian Hill and Chagrin Falls' Peter Nachtwey, who were seeded first and third around the second-seeded Keck.
Through his first five dives, Keck, who drew the second spot in the order, was fourth in the standings early to move on to the next three dives of the semfiinals. Keck struggled and fell to fifth as the field was trimmed down to the final 16.
On his last three dives, Keck picked up the pace, drawing his best score of the day on his final dive to finish with a score of 454.85, just slightly lower than his score of 472.85 at last year's meet.
"A little bit of a rocky start, but I had to get level-headed," Keck said. "I had my (coaches) there to help me to keep me going. They pushed me through. I thought I had a great day.
Vigran was on a level all his own in winning the state title, finishing with a score of 534 points. Nachtwey edged ahead of Keck down the stretch to take runner-up honors with a 456.10.
"They dove out of their minds," Keck said. "They didn't miss anything. They left it all out at the pool."
Keck heads to West Virginia University and leaves a legacy as one of the best divers the area has seen.
"I'm so glad to dive. It's been the biggest part of my life these past four years," Keck said. "I'm so glad I could share it with my family and friends today."
St. Marys' TJ Mele made the cut through the first round of dives when the field was cut from 24 to 20 but was unable to move into the top 16 that advanced to the final round of dives, finishing 20th with a final score of 200.25.
For Weitzel, who had to hold on for a ninth-place finish at district to earn a spot for state for the fourth time in her career, her day started out slowly. Through the first round of five dives, Weitzel was in 12th place, just enough to move on to the semifinals. In her next three dives, Weitzel moved up to eighth, the last spot that earns a trip to the podium. Her ninth dive kept her eighth, but she dropped to 10th on her 10th dive. Needing a big score to get to the podium, Weitzel came through and finished with a score of 397.95, just .10 points ahead of ninth-place finisher Jamie Doak of Hathaway Brown to earn a medal.
"I felt pretty good," Weitzel said. "I felt pretty consistent. The first three dives got the nerves out. ... I just started to relax. I wanted to make it to the finals and I accomplished that goal."
West Geauga's Kamryn Goodrick, who finished third a year ago at state, captured the championship with a score of 468.30. Esther Lawrence of Columbus Academy moved up two spots from fourth a year ago to second.
St. Marys' Alison Sandberg was unable to advance after the opening round of dives but did move up two spots from her 23rd place finish last year to take 21st with a score of 156.30.